LECTURES: KEVIN FONTENOT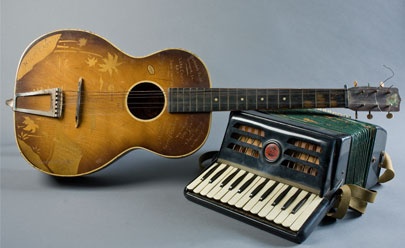 Lunchbox Lecture
Wednesday, August 15, 2012
"Over These Prison Walls I Would Fly: Country Music POWs During World War II"
by Kevin Fontenot
Kevin Fontenot discusses the war service and post war musical careers of three influential figures in country music. Charlie Fitch operated a pioneering record label "Sarge" in Luling, Texas, recording artists such as Doug Sahm, Adolph Hofner, and Al Urban. Julius "Papa Cairo" Lamperez pioneered Cajun steel guitar styles and provided the inspiration for Hank Williams' "Jambalaya." Sidney "Hardrock" Gunter recorded what is widely regarded as one of the first rock and roll records. All three spent time as POWs held by the Germans in some of the harshest stalags. This talk will examine their wartime experience and their impact on country music following the war.

Listen to the audio of the lecture.

Listen to the songs mentioned in this lecture.
Paul Warren, "Listen to the Mockingbird"

Papa Cairo & His Boys, "Kooche Kooche"

"Hardrock" Gunter, "Gonna Dance All Night"

A clip from the PBS documentary Sgt. Fitch: The Legacy of Sarge Records about Sgt. Charlie Fitch and the birth and influence of his independent label, Sarg Records.

First recording of Little Doug Sahm on Sarg Records
Little Doug Sahm as an adult, with his band the Sir Douglas Quintet, performing "She's About a Mover"