LECTURES: SENATOR GEORGE S. MCGOVERN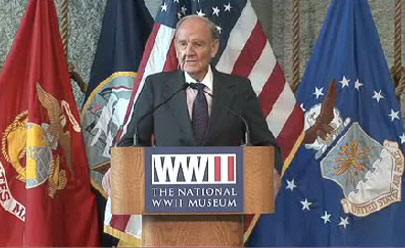 Lagniappe Lecture
Saturday, April 18, 2009
Wars Past and Present
by Senator George S. McGovern
The National WWII Museum presents a special appearance by distinguished senator and World War II veteran George S. McGovern. Senator McGovern's presentation, Wars Past and Present will draw parallels between the Civil War, World War II and the world we live in today based on his own experiences as well as his new book, Abraham Lincoln.
As a decorated World War II combat veteran, McGovern was noted for his opposition to the Vietnam War. He was appointed United Nations Ambassador on World Hunger in 2001.
He volunteered for the United States Army Air Forces during World War II and served as a B-24 Liberator bomber pilot in the Fifteenth Air Force, flying 35 missions over enemy territory from bases in North Africa and later Italy, often against heavy anti-aircraft artillery, earning the Distinguished Flying Cross for saving his crew by landing his damaged bomber on a British airfield on Vis, a small island off the Yugoslav coast controlled by Tito's Partisans. McGovern's wartime story, including his island landing, is at the center of Stephen Ambrose's profile of the men who flew B-24s over Germany in World War II, The Wild Blue.
On returning from the war, McGovern earned a divinity degree from Garrett Theological Seminary in Evanston, Illinois, near Chicago, and briefly tried his hand as a Methodist minister.