LECTURES: DEADLY MEDICINE PANEL DISCUSSION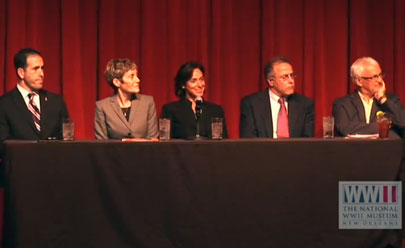 "Deadly Medicine" Panel Discussion
Thursday, October 11, 2012
From 1933 to 1945, Nazi Germany carried out a campaign to "cleanse" German society of people viewed as biological threats to the nation's "health." Enlisting the help of physicians and medically trained geneticists, psychiatrists and anthropologists, the Nazis developed racial health policies that started with the mass sterilization of "hereditarily diseased" persons and ended with the near annihilation of European Jewry.
These practices are outlined in a special exhibit now showing at The National WWII Museum: Deadly Medicine: Creating the Master Race. Produced by The United States Holocaust Memorial Museum, the exhibit is sponsored locally by the Tulane School of Medicine. This exhibit was on display at The National WWII Museum July 25, 2012 – October 15, 2012.
Looking at the era of "Deadly Medicine" from a public health perspective, what have we learned from it? How do modern medical leaders influence policy by learning from the past? Join local and state medical leaders as they discuss how current medical research has been influenced by the past.
Moderator:

Dr. Benjamin Sachs | Dean, Tulane School of Medicine
Panelists:

Dr. Karen DeSalvo | Health Commissioner, City of New Orleans

Dr. Bruce Greenstein | Secretary, Department of Health and Hospitals, State of Louisiana

Dr. Laura Levy | Vice President for Research, Immunology and Microbiology, Tulane University

Dr. Samir El-Dahr | Jane B Aron Professor, Chairman, Department of Pediatrics', Tulane University School of Medicine

Dr. Guenter Bischof | Director Center Austria, University of New Orleans