LECTURES: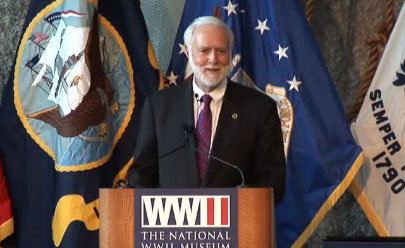 The National WWII Museum hosts a robust schedule of lectures featuring accomplished writers, scholars and more, speaking about multiple facets of World War II — from tactical maneuvers to weaponry to the Home Front and beyond. Each month, we offer compelling public presentations that are free and open to the community through three regular lecture series.
Join us at one of the upcoming lectures.
If you missed a lecture, peruse the Past Speakers Archive for videos of past presentations and related interactive material.

Dinner with a Curator
Dinner with a Curator is a seasonal series in which Museum staff and guests discuss a featured topic related to World War II while enjoying a delicious three-course dinner. All dinners catered by The American Sector restaurant. Space is limited and reservations are required.

Lunchbox Lectures
The National WWII Museum has presented more than 200 Lunchbox Lectures free to the public since 2000. Delivered by local and national scholars, these hour-long lectures are presented twice a month on Wednesdays at noon. The lectures are free, so bring your lunch and learn some WWII history.
Pre-order your lunch and pick it up in The Soda Shop before the next lecture. Call 528-1944 x 210 for the daily soup and sandwich special and to place your order!

Lagniappe Lectures
World War II has so many aspects, angles, stories and strategies that from time to time we host special lectures at the Museum. Lagniappe Lectures are presented throughout the year by Museum staff, visiting historians and veterans.

The General Raymond E. Mason, Jr. Distinguished Lecture Series on World War II
The lecture series is open to the public at no cost through the generosity of Major General and Mrs. Raymond E. Mason, Jr. and the Raymond E. Mason Foundation. Mason served in the European Theater of Operations during World War II in the 4th Armored Division of General George S. Patton's Third Army. Prior to retiring from the military in 1976, he held several high-ranking Pentagon positions, including Assistant Deputy Chief for Operations and Special Assistant to the Deputy Chief of Logistics. Speakers include writers, scholars, distinguished members of the Armed Forces and journalists.
Watch the video of Museum president Dr. Nick Mueller introducing the first Mason lecture.