DINNER WITH A CURATOR:


Dinner with a Curator is an evening of dinner and history hosted by The American Sector Restaurant + Bar culinary team and The National WWII Museum professionals. Guests participate in discussion on a featured topic related to World War II which is interpreted through the Museum's collection and a theme-inspired four-course dinner paired with beverage specials.
The Museum's new paid parking garage is open! The entrance is located on Magazine Street directly across from The American Sector Restaurant + Bar.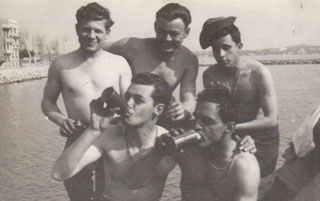 Josh Schick presents
Back in Blue: The Crew of PT-305
Tuesday, March 21
6:30 p.m.–8:30 p.m.
Join Curator Josh Schick as he discusses the history of PT-305 and how he and the Museum team helped preserve her story and bring her back to life. The 72-year journey of PT-305 started in Higgins Industries City Park Plant in New Orleans, followed by combat in the Mediterranean theater, and then postwar use as a civilian fishing vessel before she was returned to her wartime condition in New Orleans by a volunteer restoration crew. During the course of the physical restoration, considerable effort was put into restoring the story of PT-305, bringing back her unique identity and the stories of the men that lived aboard the 305. Join Josh in discussing the men and times aboard the fully restored PT-305.