DINNER WITH A CURATOR:


Dinner with a Curator is an evening of dinner and history hosted by The American Sector Restaurant + Bar culinary team and The National WWII Museum professionals. Guests participate in discussion on a featured topic related to World War II which is interpreted through the Museum's collection and a theme-inspired four-course dinner paired with beverage specials.
The Museum's new paid parking garage is open! The entrance is located on Magazine Street directly across from The American Sector Restaurant + Bar.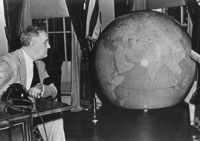 Keith Huxen presents From Scrambled Eggs to Beer and Sandwiches: FDR, the 1940 Election, and America's Entry into World War II
Tuesday, October 25
6:30 p.m.–8:30 p.m.
Location: TBA
With Nazi Germany victorious in Europe, the presidential election of 1940 loomed as one of the most important in American history. Join Keith Huxen, PhD, the senior director of research at the Museum, to discuss how the bitter election campaign led to an unprecedented third term for President Franklin D. Roosevelt and shaped the American path to Pearl Harbor.
Menu coming soon!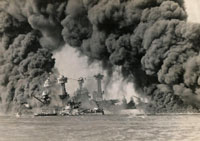 Tom Czekanski presents Beyond the Call of Duty: Medal of Honor Recipients from the Defense of Pearl Harbor
Tuesday, November 29
6:30 p.m.–8:30 p.m.
Location: TBA
For their actions on December 7, 1941—"a date which will live in infamy"—15 members of the United States Navy and one United States Marine received the Medal of Honor. Eleven of these men gave their lives in these actions. Join Senior Curator and Restoration Manager Tom Czekanski as he examines the stories of these valiant men.
Menu coming soon!