DINNER WITH A CURATOR:


Dinner with a Curator is an evening of dinner and history hosted by The American Sector Restaurant + Bar culinary team and The National WWII Museum professionals. Guests participate in discussion on a featured topic related to World War II which is interpreted through the Museum's collection and a theme-inspired four-course dinner paired with beverage specials.
The Museum's new paid parking garage is open! The entrance is located on Magazine Street directly across from The American Sector Restaurant + Bar.


Chrissy Gregg presents We Can! We Will! We Must! American Propaganda Posters during World War II
Tuesday, January 31
6:30 p.m.–8:30 p.m.
Join Museum Virtual Classroom Coordinator Chrissy Gregg to examine American propaganda posters used during World War II. Seen on storefronts and in factories, libraries and schools, propaganda images permeated US culture to recognize and inspire citizen contributions to the war effort. Many of these propaganda campaigns were meticulously crafted by the Office of War Information, commercial artists, and advertising executives. Using posters from the Museum's collection, Gregg will highlight different techniques used to arouse an emotional response in viewers.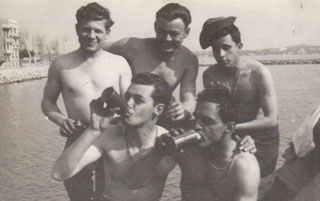 Josh Schick presents
Back in Blue: The Crew of PT-305
Tuesday, March 21
6:30 p.m.–8:30 p.m.
Join Curator Josh Schick as he discusses the history of PT-305 and how he and the Museum team helped preserve her story and bring her back to life. The 72-year journey of PT-305 started in Higgins Industries City Park Plant in New Orleans, followed by combat in the Mediterranean theater, and then postwar use as a civilian fishing vessel before she was returned to her wartime condition in New Orleans by a volunteer restoration crew. During the course of the physical restoration, considerable effort was put into restoring the story of PT-305, bringing back her unique identity and the stories of the men that lived aboard the 305. Join Josh in discussing the men and times aboard the fully restored PT-305.
Ticket availability and menu coming soon!