BLACK HISTORY MONTH: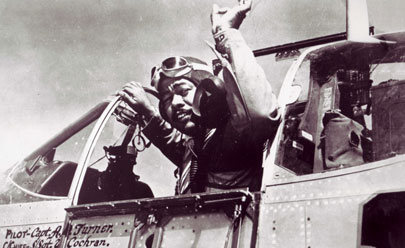 Scheduled Events at The National WWII Museum:
Special Artifact Display — African Americans in WWII
January 20 – February 29, 2012
In this special display, the Museum will exhibit a small selection of artifacts that represent the breadth of the African American experience in WWII.
Of the 125,000 African Americans who served overseas during World War II, most were relegated to non-combat, support roles. Most notable, were the African American truck drivers of the famed "Red Ball Express," which at its peak delivered over 12,000 tons of vital supplies per day to the Allied Army rapidly advancing across France. However, African Americans did serve in segregated combat units in both the European and Pacific theaters. Popularly known as the "Tuskegee Airmen," the 450 combat pilots that served in 332nd Fighter Group were the most elite of these segregated combat units, and symbolized the full potential of the African American fighting man. The 332nd's exemplary combat record, in part, led President Harry Truman to sign an executive order that desegregated our nation's Armed Forces in 1948.
Lunchbox Lecture — "Double Victory: Black WWII Veterans and the Struggle for Civil Rights"
by Gemma Birnbaum
Wednesday, February 15, 2012, 12:00 pm – 1:00 pm
Digital Education Coordinator Gemma Birnbaum will tell the stories of African American soldiers and their experiences in postwar society. While the war was officially over, some African American GIs remained in Germany, aiding in its rebuilding. Others returned home, only to face the same racial inequalities that plagued the US before the war. Honor Black History Month by learning about the brave Black men and women who turned postwar America on its head. Feel free to bring your lunch or just come and enjoy the lecture. For more information call 504-528-1944 x 229.
Virtual Field Trip — Fighting for a Double Victory: African Americans in WWII
Thursday, February 16, 2012, 9:00 am CST and 1:00 pm CST
During WWII, African American fought for a Double Victory, one over fascism abroad and one over discrimination and inequality at home. In this FREE Electronic Field Trip Fighting for a Double Victory: African Americans in WWII, students will meet Pearl Harbor hero Dorie Miller, the Montford Point Marines and the Tuskegee Airmen. They will learn about the struggle for racial equality in war factories and in the barracks and trace the historic path from segregation to integration in the military and beyond. Perfect for students in grades 7 – 12.
Family Workshop: Red Tails — the Tuskegee Airmen
Saturday, February 25, 2012, 10:00 am – 11:30 am
Explore the air war against Germany and learn about the Tuskegee Airmen — African-American fighter pilots — who escorted our bombers, saving many lives. Have fun building your own P-51 Mustang model plane! Workshops are designed for children ages 8 – 12. Pre-registration on the website is required. Call 504-528-1944 x 229 or email Lauren Handley with questions. 1 adult per 3 kids required. This program is free for kids with Museum admission. Accompanying adults admitted free.
Register for the Red Tails Workshop online!
Lagniappe Lecture — "Calvin Moret, A Tuskegee Airman's Remembrances"
Wednesday, February 29, 2012, 12:00 pm – 1:30 pm
Local Tuskegee Airman, Calvin Moret, will relate his experiences in discussion with UNO Professor Nikki Brown. Free and open to the public. For more information call 504-527-6012 x 333. The program is being offered in partnership with the University of New Orleans History Department.


Find Out More:
At a Glance: African Americans in WWII
Lesson Plan: Understanding African American Soldiers on the Home Front
Virtual Field Trip: Double Victory: African Americans in WWII