KNITTING DURING WWII: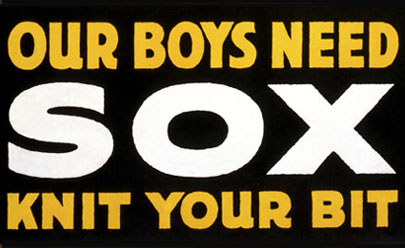 On the Home Front during World War II, knitting served as one more way Americans could support the war effort. The November 24, 1941, cover story of the popular weekly magazine Life> explained "How To Knit." Along with basic instructions and a pattern for a simple knitted vest, the article advised, "To the great American question 'What can I do to help the war effort?' the commonest answer yet found is 'Knit.'" Thousands of Americans picked up their needles to knit socks, mufflers and sweaters to keep American soldiers warm and provide them with a handcrafted reminder of home.

Many of those who were knitting items for soldiers during World War II had previously participated in the World War I Knit for Victory campaign as children or young adults. Knitting provided warmth and comfort for the soldier and therapeutic distraction and a sense of civic participation for the knitters. First Lady Eleanor Roosevelt was often photographed knitting for the war effort, or at least carrying her voluminous knitting bag. During the evening broadcast of war news on the radio, idle hands were turned to service as Americans once again knit for victory.

The Red Cross supplied patterns for sweaters, socks, mufflers, fingerless mitts (which allowed soldiers to keep their hands warm while shooting), toe covers (for use with a cast), stump covers and other garments. Cold, wet, sore feet were the enemy as surely as German or Japanese troops. Socks wore out much faster than sweaters, and needed changing many times more frequently. These were to be knitted in olive drab or navy blue wool yarn. Surviving patterns show that these knitting patterns were typed and retyped with carbon-paper copies and shared among the knitters. Many knitters chose to knit the same item in the same size again and again so that they could memorize the pattern and produce pieces more quickly.

"The Navy needs men, but it also needs knitters," newspapers cried. Church basements, school lunchrooms and members-only societies all had knitters busily clicking their needles. Their handiwork was destined to warm and protect, and fated to suffer with the soldiers. After the war, some knitters dropped their needles for good. Others kept on knitting throughout their lives in a wide variety of colors — any color, many swore, but Army-issued khaki or olive drab!