KNIT YOUR BIT: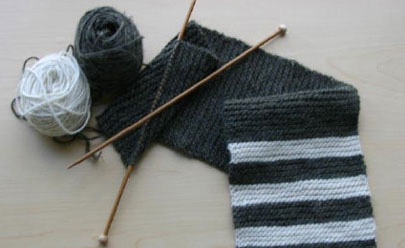 In September 2016, Knit Your Bit—a volunteer-based effort to collect and distribute hand-knit scarves to veterans—marks its 10th anniversary as a service project of The National WWII Museum.

Since its launch in 2006, Knit Your Bit's reach has been vast—more than 10,000 knitters and crocheters in all 50 states have participated. Through their efforts, the Museum has distributed 50,000 scarves to approximately 1,000 veterans' centers, hospitals, and service organizations across the country.
Try out one of the patterns below to get started.
Want to spread the word locally, or start your own knitting group? Print out the Knit Your Bit flyer, distribute it, and start knitting! You can also join our Facebook group to hear the latest news, get information on Knit-Ins at the Museum, and more!