KNIT YOUR BIT: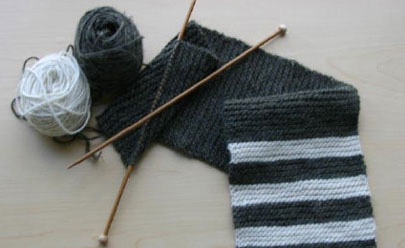 When we launched Knit Your Bit in the fall of 2006, we had no idea the response we would receive from dedicated knitters around the country. And responded you have! As we head forward with this program, the Museum has received nearly 30,000 scarves from amazing knitters nationwide.
While we encourage knitters to use our patterns, we will accept any appropriate scarf. VA Centers have expressed their appreciation and are waiting for you to make a difference in veterans' lives this winter. The Campaign has generated positive feedback, good will and warm necks.
You can help the Museum honor WWII veterans by Knitting Your Bit — in this case a simple, but cozy, scarf to be donated to a veteran in a Veterans Center somewhere in the United States.
Try out one of the patterns below to get started.
Want to spread the word locally, or start your own knitting group? Print out the Knit Your Bit flyer, distribute it, and start knitting! You can also join our Facebook group to hear the latest news, get information on Knit-Ins at the Museum, and more!