FREQUENTLY ASKED QUESTIONS: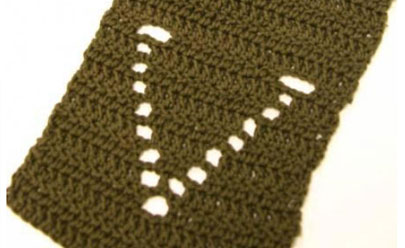 NOTE: Please don't forget to include your contact information with your scarves so we can recognize and thank you. Include your email if you are interested in updates! (Or sign up for Knit Your Bit eNews.)
Does my scarf have to follow the pattern?
The pattern is merely a reference. Some prefer knitting on the pattern, and others will enjoy varying their stitches and such. Feel free to create. We have provided several patterns for you to choose from, but you can send in scarves of any pattern. Please keep the colors gender neutral. Our experience shows that even female veterans usually pick military and patriotic colors over pastels.
Can I use other yarn?
You may use any yarn, any color. Please keep in mind that the overwhelming majority of scarves will go to male vets when you are choosing your yarn.
Is there a deadline?
The project is ongoing and I will be making distributions as scarves come in. So keep knitting, and your scarf will certainly make it to a veteran! I will try to get as many out for some holiday cheer as possible, get them in by early December if you would like to share some warmth.
Can I enclose a note to the veterans who will receive my scarves?
Absolutely! Just mark the note, "Dear Veteran" or some way so that I know it's meant for them and not for me! Again, if you hope to correspond with the veteran who receives your scarf, include a note or card specifically for them, in addition to an address label so I know where to send your deserved certificate.
How should I package my scarves?
The easiest way for us to receive your scarves and then send them on to veterans is if you fold them up and place them in any box or envelope that you want. I will then include a card stating your first name, last initial, and where you are from. For example, my scarf says: "Lauren H. New Orleans, LA." Veterans are more likely to get more use out of the scarves you create if you include care instructions. Please do not just throw the wrapper from the skein the box, but take a moment to write the care instructions on a tag for each scarf and attach them to it with a safety pin or small scrap of yarn.
My knitting/crochet group wants to participate. Anything I should know?
For the group leaders out there: Firstly, thank you for making this a true community effort! If you mail all of your scarves together, make sure you send the names of each participant so I can make a certificate and letter for each person who creates a scarf. Additionally, I would be thrilled if you could snap a picture of your group in action and either email it to me, if a digital camera, or put it in the box with your scarves, if a print.
For any other questions, contact us at knitting@nationalww2museum.org or 504-528-1944 x 463.