STAR TEACHER JOE BOYLE: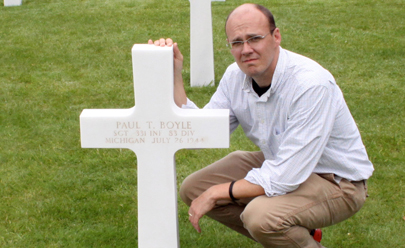 About Joe:
This semester, we're spotlighting Joe Boyle from Rogers High School in Toledo, OH.
Joe Boyle is in his ninth year teaching at Rogers High School, in Toledo, Ohio. Prior to teaching, Joe worked in daily journalism at the Fort Wayne (Ind.) Journal Gazette and PencilNews for Kids, a website that repackaged daily news for schools across the country. He has a B.A. in history, and M.Ed. in curriculum and instruction from Bowling Green (Ohio) State University, where he also teaches as an adjunct instructor in the School of Education. He was a 2012 Teacher Scholar for the Albert H. Small Normandy: Sacrifice for Freedom Student and Teacher Seminar.
We asked Joe a few questions about his teaching philosophy and effective ways to teach World War II to his students.

Q&A with Joe
What is your philosophy for teaching WWII?
World War II was truly the crucible in which modern history was formed, particularly in my industrial corner of Ohio. For this reason, my philosophy of teaching World War II is to make a global conflict intimately personal and local – even though the events and personalities of the war are increasingly removed from their daily lives. In order to help my students share in this philosophy, I present several lectures about Toledo's role in World War II, and its legacy in our city. I also encourage students to tell a family member's story of World War II in their fourth quarter family history project, be it as a service member, a civilian, or most interestingly in our area, as a worker in a war industries plant.
What lessons of WWII do you feel are most relevant to students today?
In the fall of 1940, as the world watched Hitler's forces storm through Europe, Toledo's civic leaders understood one simple reality: Sooner or later, America would be drawn into a world war. With vision toward the opportunities inherent in every challenge, leaders at Toledo Public Schools were part of a series of decisions that were informed by the past, but prepared our students, our city, and our nation for the future. Toledo's high schools transformed from a general high schools in the day to specialized institutes for war industries in the evening. In their efforts, the city cemented its reputation as a logistics hub, put its glass producing skills to use in war industries, and created a civic icon with the 'Jeep.' With decisions made before there was a crisis, Toledo positioned its citizenry for success once the inevitable occurred. Given the tough times our nation has endured in this 'Great Recession' and War on Terrorism, I think World War II teaches a poignant lesson about what's possible when people come together on a family level, civic level, and national level to put their nation above self.
How do you help your students take history outside the four walls of the classroom?
Probably my favorite of the four quarterly projects my students complete is "Our Past, Our Future." It's basically a scavenger hunt that sends them around the city to places that were important in shaping our city, in both positive and negative ways. At each site, they have to get a photograph of every member of their group; write a brief description of what happened at this site, and how (or if) it is memorialized today; and then write a paper about what lessons our city could learn from one of these sites to shape a better future. I am adapting this as a World War II-specific project from a larger survey project created by my mentor, Bill Gladieux. Without fail, it's the project my students complain about the most while doing it – and also the one they claim they loved the most five years down the road.

Classroom Ideas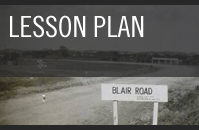 | | | | | |
| --- | --- | --- | --- | --- |
| Getting outside the classroom and exploring your city's WWII sites makes this interactive lesson plan a fun, active way to teach WWII | | | | |