SHARE YOUR LESSON PLAN: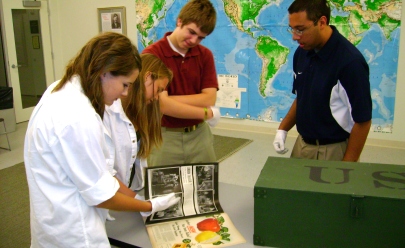 Have a unique World War II lesson plan or idea that you'd like to share? Let us know! Here, we spotlight engaging lesson plans and other classroom activities that teachers across the country have used in their own classrooms.

Lesson Plans and Classroom Activities
Introduction to WWII
This lesson plan submitted by Crystal Demsky-Graham of Bethlehem, GA is an introduction to WWII for 6th-8th grade with plenty of introductory vocabulary, map work, diagramming and class discussion opportunities. It is easily adaptable for grade levels, student needs and time constraints. Download this thorough, interactive Introduction to World War II.
Through the Eyes of a Soldier
This semester's Star Teacher Lynne O'Hara goes above and beyond to find unique primary sources for her students to use in their exploration of World War II. Her lesson plan, Through the Eyes of a Soldier, uses personnel files and archival images to provide students with an in-depth look at the impact World War II had on the individual soldiers. Read more about Lynne.

Submit Your Idea!
Have a great idea you use to teach about World War II? Want it featured on our website? Let us know! Email your idea and any accompanying materials to K-12 Curriculum Coordinator Megan Byrnes at megan.byrnes@nationalww2museum.org.