LESSON PLAN:

World War II in Photographs: A Visual Timeline Lesson
"How can I give my students an activity that covers all of the major events of World War II while also addressing the skills that students need?" Through analyzing photographs and building a timeline this lesson plan does just that. First, iconic images from World War II must be matched with their captions. Then, each image and caption will be placed in order to build a comprehensive timeline of World War II from the Japanese invasion of Manchuria to the start of the Nuremburg Trials. Students will view the raising of the American flag on Mr. Suribachi, look for a kamikaze attack on a US battleship and admire a line of proud members of the Women's Army Corps.
Objective:
Using critical thinking and observation skills as well as prior knowledge, students will gain familiarity or reinforce knowledge of the chronology of WWII by matching images, descriptive captions and dates of 25 WWII events. This lesson makes a great WWII review.
Grade Level: 7-12
Standards:
Content Era 8 (1929-1945) Standard 3 - the causes and course of WWII
Historical Thinking Standard 1 - the student thinks chronologically and interprets data presented in timelines
Historical Thinking Standard 2 - the student comprehends a variety of historical sources including photographs
Historical Thinking Standard 3 - the student engages in historical analysis and interpretation including considering multiple perspectives and analyzing cause and effect
CCSS.ELA-Literacy.SL (speaking and listening) - the student presents ideas, findings and supporting evidence (conveying a clear and distinct perspective), makes strategic use of digital media and adapts speech to a variety of contexts and tasks demonstrating a command of formal English

Time Requirement: One class period.

Directions:
Download and print out the desired PDF's (below) and cut out the photographs, captions and dates. If you plan to use this lesson multiple times, you may wish to laminate each for durability.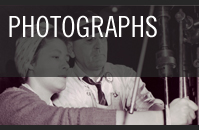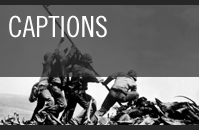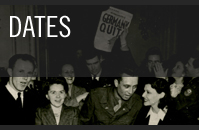 There are several ways to implement this lesson, all of which involve various levels of matching photos, captions and dates. Choose the method that works best with your students based on their skill and knowledge levels, or make up your own way. However you use the timeline elements, start by having students write down everything they can tell about their photographs [student worksheet included below]. Make sure they indicate whether their descriptions come from what they can see or from what they previously knew about WWII. Inform students that the descriptive captions do not always describe the actual photographs, but refer to a historic WWII event.
1. Give each student or pair of students a random photograph to study. Next, in chronological order, read aloud each caption and have the student with the matching photograph bring it to the front of the class and tape it to the wall or clip it to a string with a clothes pin. You can then affix the dates and captions to each picture for the class to review.
2. With groups of five students, randomly divide the photos, captions and dates among the groups. Have each group match their photos, captions and dates. Then have all the groups work together to create the full timeline of photos. Each group can explain how they were able to match their photos to captions and dates.
3. For the most fun: randomly distribute one photo, one date and one caption that don't match to each student. Then let them try to find their matching partners in order to complete the full timeline as a class. This exercise will require good teamwork and communication.
End the lesson with a discussion of the challenging job historians have of selecting what facts to include in their history in order to tell the story they think is important.
Download this worksheet so your students can write down their observations while analyzing their photographs.

Assessment:
Students can be assessed on the accuracy of their photo matching and the quality of their written descriptions. You can also quiz them on the chronology following the activity.

Enrichment:
Further activities can include:
Writing alternate, longer captions for each photo
Deciding individually or as a class 5, 10, or 20 other important WWII dates to add to the timeline and seeking appropriate photos to match
Researching one event in more depth and writing a research paper
Creating a WWII photo timeline specifically about one topic, i.e. the War in the Pacific, the Holocaust, African Americans in WWII, Women in WWII, etc.

List of WWII Timeline Events/Photos
| # | Date | Event | Area |
| --- | --- | --- | --- |
| 1 | Sept. 19, 1931 | Japan invades Manchuria | Pacific |
| 2 | Jan. 30, 1933 | Adolf Hitler becomes Chancellor of Germany | Europe |
| 3 | Nov. 9, 1938 | Kristallnacht riots across Germany | Europe |
| 4 | Sept. 1, 1939 | Germany invades Poland; WWII begins | Europe |
| 5 | Sept. 16, 1940 | US Congress passes first peacetime draft | Home Front |
| 6 | March 11, 1941 | Lend-Lease Act passed | Home Front |
| 7 | Dec. 7, 1941 | Japanese attack on Pearl Harbor | Pacific |
| 8 | Feb. 19, 1942 | FDR signs Executive Order 9066 which will lead to Japanese Americans being sent to internment camps | Home Front |
| 9 | May 4, 1942 | Office of Price Administration issues Ration Book One | Home Front |
| 10 | May 15, 1942 | WAACs (Women's Army Auxiliary Corps) created | Home Front |
| 11 | June 4-7, 1942 | American naval forces defeat the Japanese navy at the Battle of Midway | Pacific |
| 12 | Nov. 8, 1942 | Operation Torch, the Allied invasion of North Africa begins | Europe |
| 13 | May 29, 1943 | "Rosie the Riveter" appears on the cover of the Saturday Evening Post as a tribute to working women during the War | Home Front |
| 14 | June 2, 1943 | The Tuskegee Airmen undertake their first combat mission | Europe |
| 15 | June 6, 1944 | D-Day: Allied Forces come ashore in Normandy, France | Europe |
| 16 | Oct. 26, 1944 | Japanese navy defeated at Leyte Gulf; first use of Kamikazes by Japan | Pacific |
| 17 | Dec. 16, 1944 | Battle of the Bulge, the last German offensive, begins in a frigid northern European winter | Europe |
| 18 | Jan. 26, 1945 | Soviet troops liberate Auschwitz death camp | Europe |
| 19 | Feb. 4, 1945 | Winston Churchill, Franklin Roosevelt and Joseph Stalin meet at Yalta to discuss post-war Europe | Europe |
| 20 | Feb. 23, 1945 | Marines raise US flag on Mt. Suribachi during the battle for Iwo Jima | Pacific |
| 21 | April 25, 1945 | American forces meet up with their Russian allies at the Elbe River in Germany | Europe |
| 22 | May 8, 1945 | Victory in Europe (V-E) Day | Europe |
| 23 | Aug. 6-9, 1945 | The US drops atomic bombs on the Japanese cities of Hiroshima and Nagasaki | Pacific |

Download a full pdf version of this lesson plan, which includes all photographs, captions, dates, and worksheets.