TAKE A CLOSER LOOK AT WAR BOND PROPAGANDA: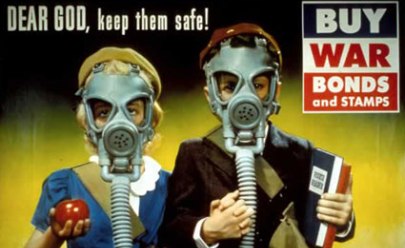 Back 'Em Up! Posters Urging Americans to Buy War Bonds
When you think of the weapons of WWII, what comes to mind? Planes, tanks, money? Bullets, machine-guns, and grenade launchers? Yes, all of these were important tools in the effort to win the war. But so was information. In this case, government issued information. Over the course of the war the U.S. government waged a constant battle for the hearts and minds of the public. Persuading Americans to support the war effort became a wartime industry, just as important as producing bullets and planes. The U.S. government produced posters, pamphlets, newsreels, radio shows, and movies-all designed to create a public that was 100% behind the war effort.
In 1942 the Office of War Information (OWI) was created to both craft and disseminate the government's message. This propaganda campaign included specific goals and strategies. Artists, filmmakers, and intellectuals were recruited to take the government's agenda (objectives) and turn it into a propaganda campaign. This included posters found across American-from railway stations to post offices, from schools to apartment buildings.
War Bonds allowed for everyday Americans to invest in the war effort by purchasing bonds that would go up in value over time. Let's take a closer look at these propaganda posters urging Americans to purchase war bonds.
All images are courtesy of the National Archives.

Poster Gallery: