TAKE A CLOSER LOOK AT POCKET GUIDES: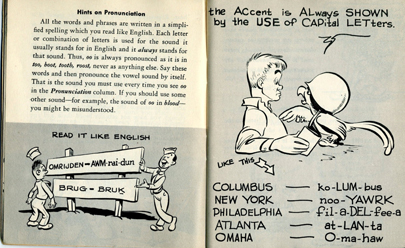 Pocket Guides: Navigating New Cultures Abroad
Imagine being a young American soldier who has never left home before, and finding yourself in a faraway country. Millions of US servicemen and women experienced this culture shock when they were stationed overseas during World War II. To assist in making the transition easier, the United States military issued pocket guides, which taught soldiers about the customs, geography, language and other cultural details of each country. Additionally, these details were instrumental for the war effort. By learning about the terrain, language and customs, soldiers were better equipped to recognize and win against an enemy combatant. Knowing basic phrases could be the difference between life and death. Each guide was designed to fit in a soldier's back pocket and could be read during down time.
Let's take a closer look at these pocket guides from the Education Department's collection.

Image Gallery: