TAKE A CLOSER LOOK: FOOD ON THE HOME FRONT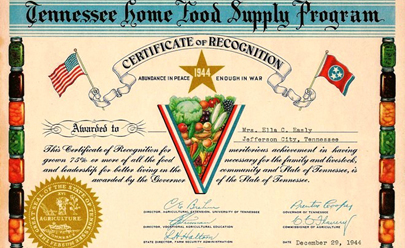 Our Food is Fighting! Food on WWII's Home Front
During the war, there were shortages of various types of food that affected just about everyone on a daily basis. Food was in short supply for a variety of reasons: much of the processed and canned foods was reserved for shipping overseas to our military and our Allies; transportation of fresh foods was limited due to gasoline and tire rationing and the priority of transporting soldiers and war supplies instead of food; imported foods, like coffee and sugar, was limited due to restrictions on importing.
Because of these shortages, the U.S. government's Office of Price Administration established a system of rationing that would more fairly distribute foods that were in short supply. Rationing meant finding creative ways to overcome challenges when you couldn't always get the foods you were accustomed to eating. The U.S. Government began printing recipe books with tips on how to stretch rationed food to last as long and feed as many as possible. Additionally, some of the most popular foods we still eat today were introduced during World War II in response to the shortages and changing food needs of the United States. Cheerios, M&M's, corn dogs, SPAM and Rice Krispie Treats were all introduced during America's war years.
The United States also called upon its residents to grow their own fruits and vegetables in Victory Gardens, which were a way to show patriotism as well as supply your family with essential foods needed to be healthy. Gardens were planted in yards, on rooftops, in window boxes and anywhere else families could find the space. Planting Victory Gardens helped make sure that there was enough food for our soldiers fighting around the world. Because canned vegetables were rationed, Victory Gardens also helped people stretch their ration coupons.
Let's take a closer look at these recipe books, propaganda posters, and more from the Education Department's collection, and see how the government made sure Americans knew their Food was Fighting.

Image Gallery: