RESEARCH STARTERS: THE HOLOCAUST: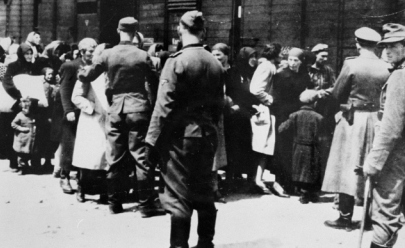 Six Million Jews, Six Million Others
The Holocaust was the genocide of approximately six million European Jews by the Nazis during WWII. The Nazis believed that Jews were racially inferior to the Aryan (or Germanic) race. An additional six million people including ethnic Poles, Russians, Roma, homosexuals, people with disabilities, and other religious opponents were also killed by the Nazis. This systematic killing was part of the "Final Solution," which was the Nazi policy to murder the Jews of Europe. It was carried out in stages, beginning with removing Jews from civil society before the start of WWII.
Jews and the other victims of racial and ethnic hatred were confined to overcrowded ghettos before being transported to labor or death camps. Some of the camps were created for forced labor while others were death camps were the vast majority of those transported were gassed to death shortly after their arrival. These victims included more than one million children. Near the end of the war, those that had survived the camps were forced on death marches in an attempt to prevent Allied liberation of the camps. The Holocaust has come to be viewed as one of the worst mass atrocities in human history and continues to be studies today as modern society explores how such an event could have taken place and how to avoid it happening again.

Secondary Sources
The Holocaust: A History of the Jews of Europe during the Second World War by Martin Gilbert
The Holocaust: The Fate of European Jewry, 1932 – 1945 by Leni Yahil
Tell them We Remember: The Story of the Holocaust by Susan D. Bachrach
Have Lived a Thousand Years: Growing Up in the Holocaust by Livia Bitton-Jackson

Primary Source Gallery: