WHAT IS HISTORY DAY?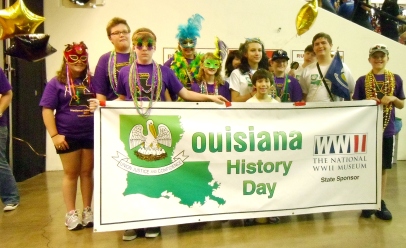 A High Quality Research Program
Louisiana History Day is a program that allows students to explore local, state, national, or world history through a research project that relates to an annual theme. History Day builds college readiness, career skills, and a deep appreciation of history. An independent evaluation of the program has found that students who participate in History Day outperform their peers in multiple subjects and on standardized tests.
During the course of the research project, students investigate both primary and secondary sources. Students are encouraged to revisit their work to find ways to improve, and benefit from outside reviews of their work. Students get up close and personal with history by exploring the words or thoughts of those who lived them as well as the interpretations of later scholars.

A Contest
Louisiana History Day is a contest. Students attend regional competitions with the goal of advancing to the next round. The contests begin with the regional rounds in New Orleans, Baton Rouge, Shreveport, Lafayette, and Monroe. The State Contest occurs at The National WWII Museum in New Orleans. From here, students can earn the right to represent Louisiana at the National History Day Contest in College Park, MD. Judges in each round evaluate the projects on their historical accuracy, relation to the annual theme, and design. The judges' feedback is provided after each round to help students focus for the next competition.
The National Contest consists of around 3,000 of the nation's brightest young scholars competing for cash awards and scholarships. Students will have their projects judged by professionals from the Smithsonian, National Archives, and major universities. The National Museum of American History holds a National History Day Showcase in which one project from each state is displayed in the halls of the museum.