THANK YOU FROM NATIONAL HISTORY DAY STUDENT ZOE ZEMMELS: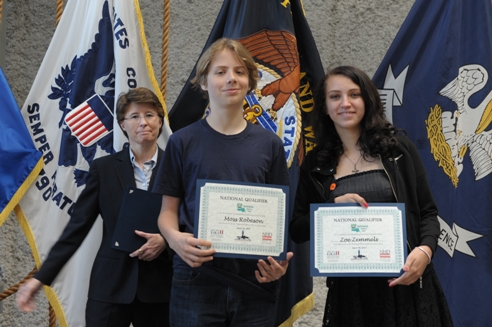 Thank you so much for your generosity toward the Louisiana National History Day students. Your contribution made it possible for each of us to have a wealth of memorable experiences.
Picking my topic was relatively simple. Since I moved to New Orleans three years ago, I have been entranced by jazz music. Upon learning that some of the most famous jazz musicians of all time were actually sent overseas during the Cold War era as official American ambassadors. I knew then that I'd found my topic. I began researching, reading, interviewing, and creating with my partner. At last it came time for the regional competition, which was held at the National World War II museum. Being allowed free admission to the WWII museum was nothing short of a treat. While waiting to compete, my partner and I were able to peruse the museum, and calm our nerves by looking at the remarkable displays.
Going to College Park for the national contest was also a fun and invaluable experience. At the opening ceremonies, everyone from Louisiana traded buttons and got to know students from all over the country. As the week progressed, I competed and attended events planned by NHD where we were able to meet other students and their families from all over the United States. My mother says that is the best part of all as she continues to be friends with teachers she met her first year doing National History Day.
In between all of this, we toured Washington DC, visiting the famous monuments and museums with my family and other students from Louisiana. The trip was incredibly fun and educational, and I wouldn't trade that experience for anything.
Thank you so much for making that experience possible. Your contribution is very much appreciated. I am already making plans for next year's project.
Sincerely,

Zoe Zemmels