THANK YOU FROM NATIONAL HISTORY DAY STUDENT SARAF AHMED: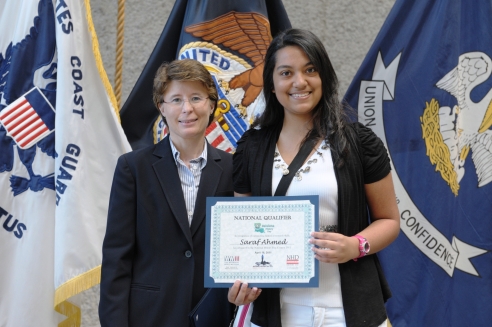 Thank you very much for your contribution to my travel expenses for the Kenneth E. Behring National History Day competition near Washington, D.C. this June! I had a fantastic time and was so grateful for the opportunity to present my research to others around the world…for them to appreciate.
I first heard about National History Day through the social studies/history coordinator of my school, Ms. Mary Anne Hill. She told me that she had discovered a history research competition that she thought I might have a chance at doing very well in, and it would be the kind of thing an ambitious, high-achieving student might want to add to his or her resume should he or she win an award. This year's theme, "Debate and Diplomacy in History", intrigued me greatly.
My paper — for that was the category I ended up deciding to compete in — was titled "In the Name of God: The Protestant Reformation and Diplomacy". I have always been fascinated by European history, and the Protestant Reformation is one of the major turning points in religious and social history. I had previously completed projects and papers on the Reformation, but I was excited that National History Day gave me the opportunity to expand my research and knowledge on the topic beyond just what I had learned in the classroom or picked up from reading tidbits on Wikipedia. History Day enabled me to utilize sources beyond just the average textbook; I was able to read historical novels, discover and catalogue primary sources, then form, analyze and state opinions in addition to merely spewing out facts.
I attended the regional competition in Monroe, a small city in Northeast Louisiana. There I won first place in the paper category, advancing me to the state competition in the World War II Museum in New Orleans. At the museum, not only did I compete, but I was also able to explore a vast and rich treasure trove of stories from one of the most devastating wars in human history. I also harbor a deep — albeit slightly morbid — curiosity of the Holocaust, and being able to see actual pieces of the past from it was an amazing experience. The museum itself was incredible, and I even had the pleasure of attending a focus group in order to help improve an already extraordinary national museum.
My trip to Washington, D.C. was, thanks to you, an unbelievable experience! My first stop was the University of Maryland in order to register, and while there I was able to meet and converse with dozens of students from around the country and even from different parts of the world. While we all came from different backgrounds and places, we all shared so much in common: most notably, that we are ambitious, intelligent students with a love of history, a passion for knowledge of the past and who are utilizing it to create a bright and better future. While in the D.C. area, I was also able to travel to nearby colleges and cities in the northeast and was able to see…places, people and cultures that were vastly different from my rural town in north Louisiana. National History Day was itself a truly eye-opening experience; not only that, but travelling to the nation's capitol enabled me to visit other places, learn more about them — and more about myself. My paper ended up being one of 15 finalists out of 96 entries in the category, so needless to say I was quite proud of such an accomplishment. It was wonderful to realize, upon hearing the news, that all my painstaking research, hours of writing, and long nights exhaustedly editing and refining had paid off, and been recognized on a national level!
I cannot thank you enough for the part you played in ensuring that my trip was a success. Without your donation, I may not have been able to attend the national level competition and been able to experience everything I have, and make so many friends and memories that I know will last me for a lifetime. Being able to come to Washington, D.C. has renewed my passion for history and sharing my knowledge with others. I look forward to hopefully being involved with History Day again next year!
Best Regards,

Saraf Ahmed
Senior Paper Finalist 2011