THANK YOU FROM NATIONAL HISTORY DAY STUDENT CARTER SATERFIEL: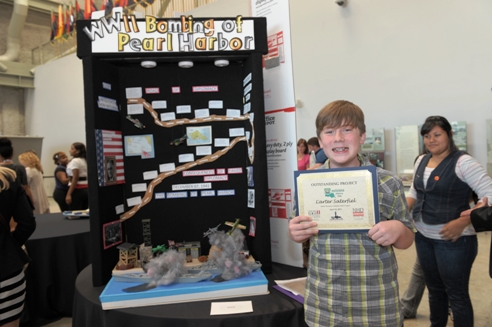 My name is Carter Saterfiel and I attend Claiborne Christian School in West Monroe Louisiana. I wanted thank you for your donation which helped me to compete in Washington, DC at the National History Day competition.
My teacher, Mrs. Collins, insisted we had to enter a project in the History Day competition at our school. To be honest, I really didn't want to do this because I didn't think it would be very fun. But I was really surprised how much fun I had and how cool it was to learn about WW II and the bombing of Pearl Harbor, which was the topic my partner and I chose. This was my first competition for History Day and my group presented an exhibit in Monroe, LA at the Chennault Aviation and History Museum. We advanced to the state competition held at the National World War II Museum. Wow, that was an amazing museum! I have never been to a museum like the Museum in New Orleans! I enjoyed all the interactive videos and of course, the planes. Seeing history come alive made me excited to learn more about my roots, my family and history of the United States. I am excited to tell you that our group won the state competition and that was the reason we moved on to the National event.
We competed in Washington and I was very nervous when I got there at the number of people. There were over 2800 students competing. We did not place but the experience in competing has already given me ideas for next year. I met some of the coolest students and we have exchanged emails and we are now friends on Facebook. I just want to thank you again for donating your funds to help us get to Washington; it was an experience I will never forget. I also want to thank our state coordinator, Nathan Huegen, who was so helpful to our group and made sure we were where we needed to be at all times. He is awesome! Again, thank you very much!
Sincerely,

Carter Saterfiel