HOW TO PARTICIPATE: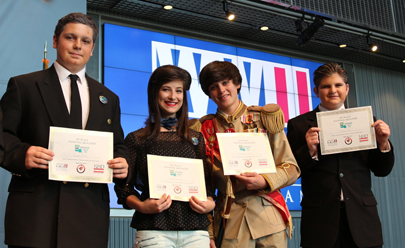 Students
Louisiana History Day has two divisions. Students in grades 6-8 participate in the junior division. High school students compete in the senior division.
The first step to participating is to alert The National WWII Museum of your intent to participate by sending a brief email to historyday@nationalww2museum.org or calling (504) 528-1944 x 304. Teachers may express interest on behalf of their schools or classes. The National WWII Museum can help in selecting a topic, finding resources, and designing your project.
Once you have alerted the museum of your desire to participate, you will receive an informational packet to help you with the research process. The museum will periodically check on your progress and find ways to help. Do not hesitate to contact the museum if you run into a roadblock with your research, or if you need help in finding more sources.
You should begin to think about your topic and begin consulting secondary sources (books, web sites, journals) in the fall. You should start to find the common ideas and facts about your topic that you see in multiple sources, while also noticing any differences in how the authors interpret the events. While doing this, think about what category you want to enter. It should reflect your creative strengths.
In January, registration opens for contests around the state. You must register your project before the first week of March. In March, you will bring your project to one of the regional sites throughout Louisiana. At these regional contests, judges will evaluate your project, and you will receive an interview appointment to answer questions about your project. This can seem intimidating, but most students come away from the interviews encouraged by their conversations with the judges.
The judges will meet and determine which projects are eligible to advance to the State History Day Contest at The National WWII Museum in New Orleans. There, the judging process repeats itself, but the competition will be tougher. The top two projects in each category will advance to the National History Day Contest held at the University of Maryland in June. Students will spend nearly a week in the Washington, D.C. area, experiencing a celebration of history and seeing sites such as the Smithsonian Institute for American History.

Judges
Judging is an integral part of the History Day process. The feedback that students get is critical to their growth as researchers. Most of the students will not pursue history as their college major or career choice, but the skills that students use in creating their History Day projects will apply to any college and career path they choose. The National WWII Museum is always looking for judges who possess knowledge of history and great communication skills. You do not need a Ph.D. in history to serve as a judge. The most important part of the judging process is communication skills. Students will want clear suggestions for how to improve their project.
A light breakfast and lunch is provided for judges. In addition, The National WWII Museum and its regional partners provide all judging forms, instructions, and other materials. Please contact Collin Makamson at historyday@nationalww2museum.org for more information.