PROCESS PAPER AND ANNOTATED BIBLIOGRAPHY: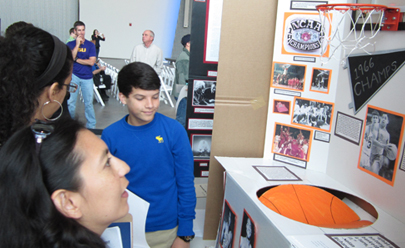 Instructions
All projects are required to include an annotated bibliography. All projects except the research paper are required to include a process paper. These two aspects can seem like quite a bit of extra work but careful research can eliminate the feelings of rushing through them at the end.

The Process Paper
The process paper simply describes your research process. It is valuable to the judges because it lets them see how you started your research, chose your category, and created your project. By knowing these facts, judges can give informed feedback and suggestions for you.
Your process paper has a limit of 500 words. The best place to start is how you selected your topic. From there you simply chronicle your research. The most basic format for a process paper is below.
First section should explain how you chose your topic.
Second section should explain how you conducted your research.
Third section should explain how you selected your presentation category and created your project.
Fourth section should explain how your project relates to the NHD theme.
You do not need to put footnotes or citations in the paper. It is simply a description of your project and research.

Examples of Process Papers

The Annotated Bibliography
As a researcher, it is important to give credit to sources that you have used in your research. Any source that has informed your project must be listed in your bibliography. Annotations are simply 1-4 sentences that explain how the source helped you create your project. This will help the judges in determining how balanced your research was and in determining the depth of your reading into the sources.
Most judging teams like to see the primary sources first. Remember, a primary source is anything that was created during a historical event. This could be a journal, newspaper article, memo, or a memory that was later written down in an autobiography. Judges like to see these first because it shows the extent of investigation that you have done.
Secondary sources should be listed second. It is very important to annotate these carefully. You should state the main idea of the source, the most important evidence that was offered to support the main idea, and how the source influenced your project. Judges, especially at the national level, will be looking at your selections and how carefully you read them. They are impressed by quality annotations of important secondary sources. However, it is important to not make your annotations too long. Judges want to be able to scan all of your sources quickly while they review your bibliography.

Examples of Annotated Bibliographies
Primary Source

Droke, Maxwell. Good-by to G.I. New York: Abingdon-Cokesbury Press, 1945.

Distributed to servicemen after World War II, this book gives some insight into life in the 1940s. Soldiers returning from war were given instruction on how to assimilate back into American society. For my project on the psychological effects of war, I found the tone of this book very interesting. Several direct quotes from this manual appear in my research paper.

Secondary Source
LeBor, Adam. Hitler's Secret Bankers: The Myth of Swiss Neutrality during the Holocaust.

Secaucus, NJ: Carol Publishing Group, 1997.
In this book, LeBor takes on the idea of Swiss neutrality during World War II. Most accounts of the war show Switzerland as a neutral country, but LeBor has uncovered evidence of collaboration between the Swiss government, Swiss banks, and Nazi Germany. LeBor relies on a great deal of unclassified primary documents, and his book gave me a great framework for my research.