THE HOLOCAUST: HIGH SCHOOL: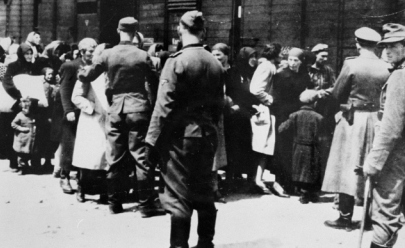 Frank, Anne. The Diary of a Young Girl / Anne Frank ; Translated from the Dutch by B.M. Mooyaart-Doubleday ; with an Introduction by Eleanor Roosevelt ; and a New Preface by George Stevens. New York: Pocket Books, 1975. The diary of a young Jewish girl who spends her teenage years in hiding from the Germans during the Holocaust. Nonfiction, Grade 10-12.
Gies, Miep, and Alison Leslie Gold. Anne Frank Remembered: The Story of the Woman Who Helped to Hide the Frank Family. New York: Simon & Schuster, 1988. The story of Miep Gies, the woman who hid Anne Frank and her family during the Second World War. Nonfiction, Grades 10-12.
Holzer Schirm, Joanie. Adventurers Against Their Will: Extraordinary World War II Stories of Survival, Escape, and Connection-Unlike Any Others. PeliPress, 2013. Based upon stories told to the author by her late father, Oswald A. Holzer, MD, and information gathered from WWII-era letters and documents. Nonfiction, Grades 9-12.
Klempner, Mark. The Heart Has Reasons: Holocaust Rescuers and Their Stories of Courage. Cleveland, Ohio: Pilgrim Press, 2006. Interviews with Dutch citizens that risks their life to save Jewish children during the Holocaust. Nonfiction, Grades 10-12.
Opdyke, Irene Gut, and Jennifer Armstrong. In My Hands: Memories of a Holocaust Rescuer. New York: Knopf, 1999. The true account of young girl who fought against the Hitler movement hiding and saving Jews from persecution. Nonfiction, Grades 10-12.
Orlev, Uri, and Hillel Halkin. The Lady with the Hat. Boston: Houghton Mifflin, 1995. Seventeen-year-old Yulek, is the only member of his family to survive the Holocaust. Unaware that his aunt in London is looking for him, he joins a group of young Jews preparing to live in Israel. Fiction, Grades, 10-12.
Rosenberg, Maxine B. Hiding to Survive: Stories of Jewish Children Rescued from the Holocaust. New York: Clarion Books, 1994. True accounts of fourteen Holocaust survivors who as children were hidden from the Nazis by non-Jews. Nonfiction, Grade 10-12.
Rossel, Seymour, and David A. Altshuler. The Holocaust: The World and the Jews, 1933-1945. West Orange, N.J.: Behrman House, 1992. Covers anti-Semitism in Europe, the treatment of Jews during the Holocaust, and the aftermath when the Nazi war criminals were brought to trial. Nonfiction, Grades 10-12.
Wiesel, Elie, and Marion Wiesel. Night. New York: Hill and Wang, 2006. The narrative of a boy who lived through Auschwitz and Buchenwald provides a short and terrible indictment of modern humanity. Nonfiction, Grades 10-12.