ORDER NOW
COMMEMORATIVE BRICKS AT THE NATIONAL WWII MUSEUM
They say that in order to create lasting memories, you must first pave the way.
Every day at The National WWII Museum, we work hard to tell the stories of our WWII heroes, their struggles, and their sacrifice. It is crucial that the Museum find ways to create a gateway between the actual events that shaped WWII, and preserving those stories in the hearts and minds of future generations.
With a brick at The National WWII Museum, you have a unique opportunity to create a lasting tribute to loved ones who served their country. Three lines of personalized text allow you to list your name, the name of a WWII veteran or civilian, a military unit, squadron, ship, or branch of the armed forces—the choice is yours. These fathers and grandfathers, sons and daughters, friends and neighbors overcame a once-in-a-generation challenge and they deserve a memorial that will last for generations to come.
Note: The brick program at The National WWII Museum celebrates the American spirit as well as the shared appreciation for the Allied effort during WWII. The Museum reserves the right to refuse to engrave any messages or material it deems inappropriate, such as personal contact information, political statements, suggestive wording, and messages that might be considered offensive to those who served and sacrificed during the WWII era.
Road to Victory Brick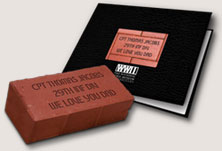 ORDER VICTORY BRICKS
For only $200, you can honor your hero with a classic red brick to be installed on our New Orleans campus.
Plus for an additional $50, you can add a special edition 44-page hardcover commemorative book from the WWII Museum Press personalized with a digitally reproduced image of your brick.
The elegant, commemorative book immortalizes the story of America's role in WWII through powerful and awe-inspiring images from the Museum's archive. By itself, the commemorative book makes a terrific gift, but personalized with your brick, it becomes a lovely tribute to your loved one and a cherished keepsake you'll pass down for generations.
Campaigns of Courage Brick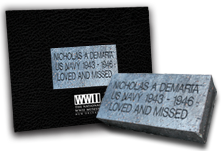 ORDER CAMPAIGNS BRICKS
For $500, the Campaigns of Courage Commemorative Brick Package includes a beautiful charcoal gray brick, a commemorative certificate, and a personalized book that provides a timeline of WWII.
Available in limited quantity and for a short time, these exclusive bricks will be part of the atrium of the Museum's next great pavilion—Campaigns of Courage: European and Pacific Theaters. Our goal is to have the entire atrium filled with the names of families and their veterans when we open the Road to Tokyo exhibit gallery in 2015.
There are less than 500 of these bricks available, so be sure to order your special tribute as soon as possible.