DONATE A VEHICLE FAQ: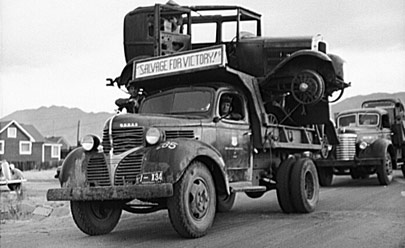 What is Charitable Auto Resources, Inc. (CARS)?
Charitable Auto Resources, Inc. (CARS) is a company based in San Diego, California, that works with non-profit organizations around the country to assist with developing and maintaining vehicle donation programs.
Do you accept anything other than cars?
In addition to cars, we accept motorcycles, trucks, boats, RVs and other motor vehicles. If you are uncertain as to whether or not your vehicle is eligible, please contact us at 1-877-WW2-GIVE (877-992-4483).
What does The National WWII Museum do with the donated vehicles?
The vehicles are sold at a private auction. The proceeds from the sale go toward maintaining the Museum's programs, including education, research and artifact maintenance and restoration.
Does it matter what condition my car is in?
We will accept your car whether it's running or not, but it must have an engine and be towable. If you have questions about your car's condition, it's best to call us at 1-877-WW2-GIVE (877-992-4483).
What paperwork do I need?
The only paperwork needed is a signed title in the name of the donor without a lien. Have your title handy when you call in your donation.
What if I lost the title?
You will need to get a duplicate from your state's registry. We cannot accept any vehicle without a title.
What if my car won't pass the state inspection?
That's okay, we can still accept it.
Do I need a Smog Certificate to donate my car?
No.
What if I receive legal notices relating to my vehicle?
In the rare event that you receive any notification of a lien sale, DMV action, or other activity related to your donated vehicle, please contact us at 1-877-WW2-GIVE (877-992-4483) for assistance.
Will I get a tax receipt for my donation?
Yes, our driver will issue a receipt at the time of pick-up. This is your final tax receipt unless your vehicle sells for $500 or more. This initial acknowledgement will indicate your name as well as the year, make, model and condition of the car you are donating.
What can I claim as a deduction?
According to the tax law effective January 1, 2005, if the claimed value of the donated vehicle exceeds $500, the taxpayer is limited to the gross proceeds of the sale. An IRS Form 1098-C, Contributions of Motor Vehicles, Boats and Airplanes, will be mailed to you within 30 days of the sale, stating the amount of gross proceeds received from your car, provided your vehicle sold for more than $500. This will be your tax receipt for your charitable contribution.
How is the value determined on the vehicle donated?
The value is determined by the gross proceeds raised from the sale of the donated vehicle. You no longer have the burden of determining the value yourself.
When is the latest I can donate a vehicle and still qualify for a tax deduction for that year?
Vehicle donations committed to the Museum by midnight of December 31st are considered as donations for that year regardless of the pick-up date and subsequent sale.
How long will it take to pick up my vehicle?
A towing company will contact you within two to three business days to schedule pick-up. Call our representatives at 1-877-WW2-GIVE (877-992-4483) or e–mail donations@charitableautoresources.com to set up an appointment.
Do I have to be with the vehicle at the time of pick up?
No. You can make arrangements through our customer service representative at 1-877-WW2-GIVE (877-992-4483).
Do I pay for the towing?
No, there is no charge to you for the towing.
I donated my vehicle several weeks ago and have not heard what it sold for. How can I find out?
Call our representatives at 1-877-WW2-GIVE (877-992-4483), and they will inform you where your vehicle is in the selling process. Keep in mind that the entire auction process and paperwork completion could take several weeks, but a phone call to our representatives will provide you with the information you need, especially at tax time.