CAMPAIGNS OF COURAGE:
EUROPEAN AND PACIFIC THEATERS

Scheduled for completion in 2015, the Campaigns of Courage pavilion will feature two essential stories of World War II—Road to Berlin and Road to Tokyo—representing the "heart and soul" of the Museum's expansion.

ROAD TO BERLIN
The European-Mediterranean Theater spanned several years and engaged hundreds of thousands of people in the air, at sea, underwater, on the beaches, and in the mountains and the desert. Road to Berlin presents a comprehensive narrative of the fascinating stories and events in Europe, helping visitors to understand and appreciate what preceded D-Day in June 1944—the challenges, strategies, and operations that secured the path to Normandy, as well as the bloody battles that followed. Road to Berlin contains eight deep-dive galleries that make the war come alive through images, oral histories, artifacts, and stunning displays that mimic the environments of the battle scenes.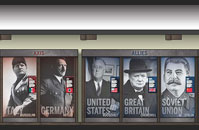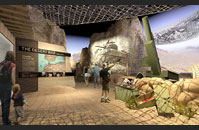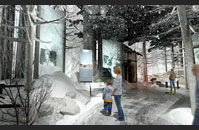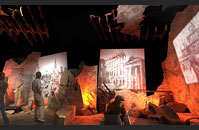 ROAD TO TOKYO
For America, World War II began in the Pacific. Although the nation's attention had long been focused on events in Europe, it was the Japanese attack on Pearl Harbor that officially brought America into World War II. The Asia–Pacific Campaign builds on that galvanizing event, following the path that leads from Pearl Harbor to Tokyo Bay. Galleries will explore the evolving strategy for fighting across the Pacific and in Asia, and the cultural differences and tremendous range of extreme conditions that confronted our soldiers. In addition, the Museum's Curtiss P-40 Warhawk airplane will soar above the galleries in Road to Tokyo.