While ostensibly a "suspense" film (will Spencer Tracy be caught by the Germans after he escaped a concentration camp?), The Seventh Cross offers a complex portrait of everyday life in Germany under the Nazis. The film, like the book on which it is based, is a rallying cry for all Germans to resist by appealing to their feelings of human decency and solidarity. It is also an attempt by director Fred Zinneman to bring the situation in Europe closer to the American public and to paint more differentiated portraits of Germans in 1944.
The Seventh Cross is the story of seven inmates who escape a German concentration camp on Monday morning. The date is 1936, well before the war started in 1939 and at a time when the first victims of the Nazi regime were Germans; anyone considered enemies of the state. We have a writer, a once-renowned acrobat, a schoolmaster, an old farmer, a Jewish grocery clerk, George Heisler (Spencer Tracy) and his friend Wallau. By Sunday, six prisoners have been recaptured, tortured and killed. Their bodies are displayed on crosses in the camp. The seventh cross remains empty as Heisler attempts to make his way to Holland. As he passes villages, schools and cities, we see how the monstrosity of national socialist rule had become "normal" for most Germans and we witness the slow erosion of moral values under the regime: children excited to hunt a fugitive; peasants looking on as a man chased by the police jumps to his death; factory workers welcoming new social benefits even if it means building tanks instead of sewing machines; neighbors denouncing neighbors; brothers joining the SS...
A handful of Germans, however, step forward to help him. Among them is Paul Roeder (Hume Cronyn), a factory worker, who together with his wife (Jessica Tandy) and their three young children, open their home to the desperate Heisler. Roeder is willing to help him, even if it means risking his own lives.
George Heisler, touched by their actions, regains his faith in humanity. Thanks to Spencer Tracy's subtle acting, we witness George's evolution from a resigned man, empty-eyed and expressionless to someone who dares to hope for a better future.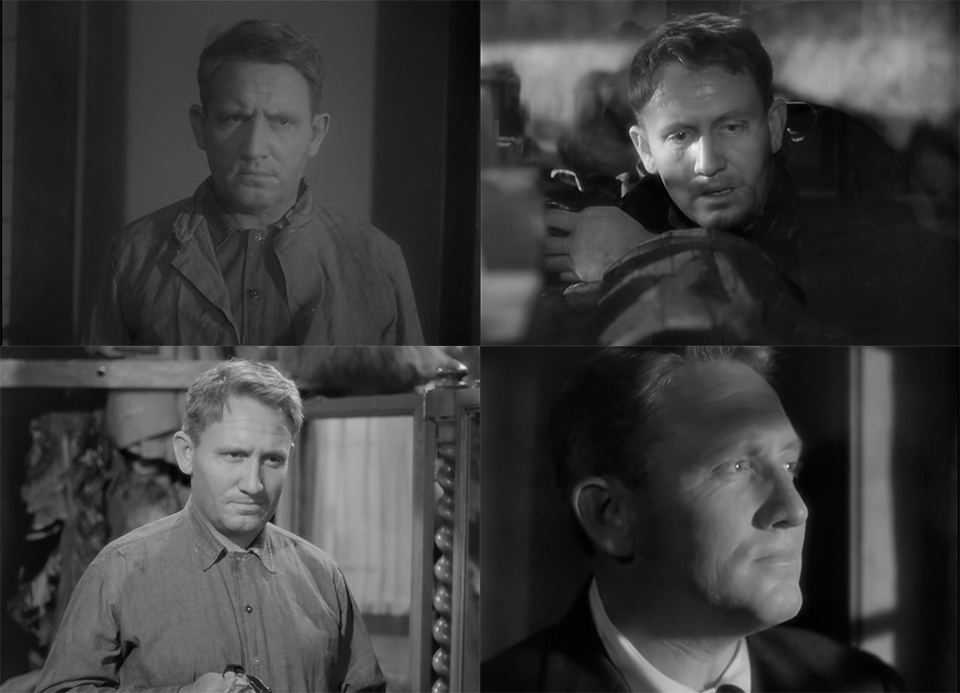 Painting a more complicated picture of German society under the Third Reich had been a goal of both writer Anna Seghers and director Fred Zinneman. A German writer who fled the Nazis in 1933 and found refuge in France before escaping to Mexico in 1941, Seghers wrote the novel The Seventh Cross between 1937 and 1939, using fragmentary reports of more recent exiles. An outspoken communist who chose to live in East German after the war, Segher decided to tone down her more doctrinaire rhetoric in the book and focused instead on concepts of human dignity and human rights, regardless of social standing. Although she herself was denied entry to the United States and had to live in Mexico for seven years, The Seventh Cross was published in 1942 to great success. It became a national bestseller and in 1943 a Book of the Month Club Main Selection. The story was even turned into a comic book.
Helen Deutsch turned the novel into a screenplay that was sold to MGM, where it was assigned to director Fred Zinneman for his first "A" movie. An Austrian who grew up in Vienna and moved in 1917 to France to work in film before immigrating to the US, Zinneman saw The Seventh Cross as an opportunity to bring the situation in Europe closer to the American public. That the film was made in 1943-1944 might also been influenced by the US War Department Office of War Information bureau. In 1943, the OWI asked Hollywood to move away from the negative wartime cinematic images of the enemy and depict more positive images, including the "good" German. When the film came out in September 1944, Allied leaders were making plans for a defeated and "denazified" post-war Germany that would be brought back in the community of nations. The "only good German is a dead German" motto that was used to mobilize and motivate troops had to be changed.
The Seventh Cross features some great performances by Spencer Tracy, Hume Cronyn (nominated for a Best Actor in a Supporting Role Oscar), Agnes Morehead, Signe Hasso, Ray Collins, Jessica Tandy, and a handful of European refugees, including Helene Weigel, the prominent German actress and wife of playwright Bertolt Brecht. It succeeds in showing that not all Germans were Nazis and that they were some "good Germans" who had the courage to stand up. While it remained close to the book, the Seventh Cross was a Hollywood production. All mentions of George's communist past were deleted, although references of his involvement in workers mobilization and distribution of leaflets at the factory abound in the film.
Despite adapting a popular book and having an excellent cast, Metro- Goldwyn-Mayer did not quite know what to do with a film that had "a somber title and no love interest." MGM publicity played up the fleeting romantic element between Tracy's character and that of the Swedish actress, Signe Hasso, with the tagline: "The revealing novel of a hunted man's search for love!"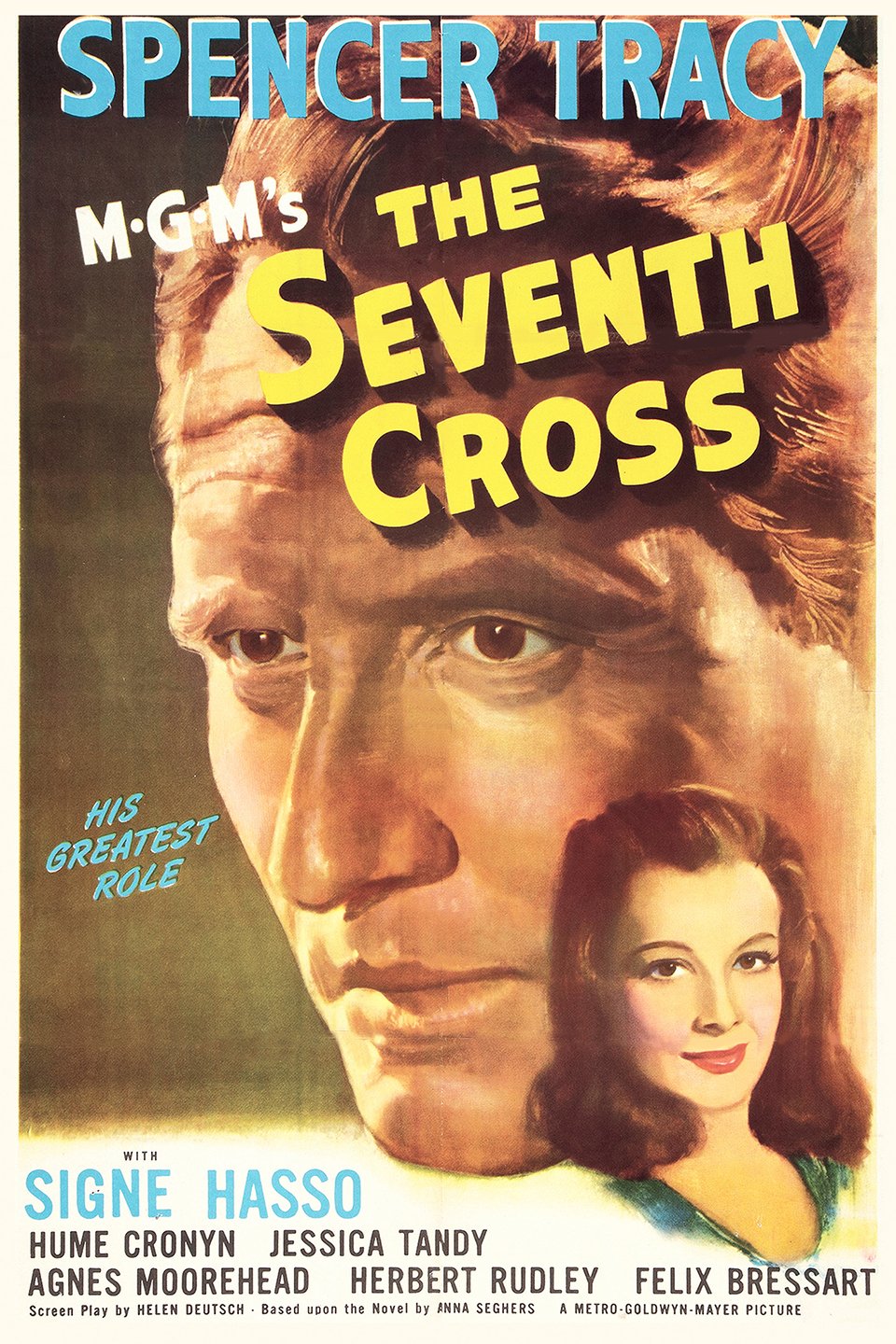 In addition, the studio organized a rather tasteless publicity stunt to advertise the movie by staging a George Heisler manhunt in seven cities across the United States. In each city, Roy Thomas, Tracy's stand-in, had to pass seven crosses marked large on doorways, sidewalks and signposts in a given time. The first person who spotted him in each city won a $500 War Bond. This "real" George Heisler was captured in every city.
Unbeknownst to the director, Zinneman's parents were murdered in a camp, something he only found out after the war. While he went on to have a very successful career in Hollywood, directing a wide range of films from the classic Western High Noon to the story of  the 16th-century Lord Chancellor of England in A Man for All Seasons,  Zinneman is noted for directing a series of films that dealt with the war and its consequences: In The Search (1948) Montgomery Clift (in his screen debut) plays a GI who cares for a lost Czech boy traumatized by the war in a film shot in war-ravaged Germany; Act of Violence (1948) is about a haunted POW; The Men (1950), starred newcomer Marlon Brando as a paraplegic war veteran; Teresa (1951) concerns a young war veteran struggling to adjust to civilian life with his Italian war bride; From Here to Eternity (1953) tells the story of three US soldiers in the months leading up to Pearl Harbor; The Nun's Story (1959), with Audrey Hepburn in the role of Sister Luke, depicts a nun who eventually gives up the religious life to join the Belgian resistance; Julia (1977) shows playwright Lillian Hellman's relationship with a childhood friend who goes underground to fight the Nazis.
The Seventh Cross is often credited with being the first US film to show concentration camps and what was done to the enemies of the Nazi regime. The horrors of the camps, however, are not shown directly. In a less voyeuristic and way more effective fashion, the audience experiences the brutality of the Nazi regime through sounds (the scream of prisoners being tortured) and through reverse shots: we see the reaction of German camp inmates when they see a fellow being tortured, but we do not see the act itself. Creating this shared feeling of humanity between American audience and German characters is probably one of the greatest achievements of the film.

Contributor
Christelle Le Faucher, PhD, is a Research Historian in the Institute for the Study of War and Democracy. She came to the Institute in 201...
Learn More