Background: During World War II, an estimated 90,0000 Americans were held as prisoners of war (POWs) in Germany. Once captured, the POWs were first processed through a Dulag (transit camp) where, according to the Geneva Convention signed in 1929, they were required to give their name, rank, and serial number. They were then sent to the actual POW camps, which were sometimes divided among different types of camps such as Marlag (Marinelager), a prison camp for naval servicemen; Oflag (Offizierslager), a camp for officers; Stalag (Stammlager), a camp for officers and enlisted men.

Under the Geneva Convention, officers were not required to work but enlisted men were often made to work, often in difficult conditions. While Allied POWs were subjected to harassment, beating, starving and sometimes death in German camps, their situation was altogether more tolerable than in the Pacific. Over 40% of the American POWs in the Pacific perished, compared to between 1 and 2% in Germany.
The main concerns were shortages of food; the meager rations POWs received from the Germans were supplemented by the more than 27 million parcels sent by the Red Cross during the war.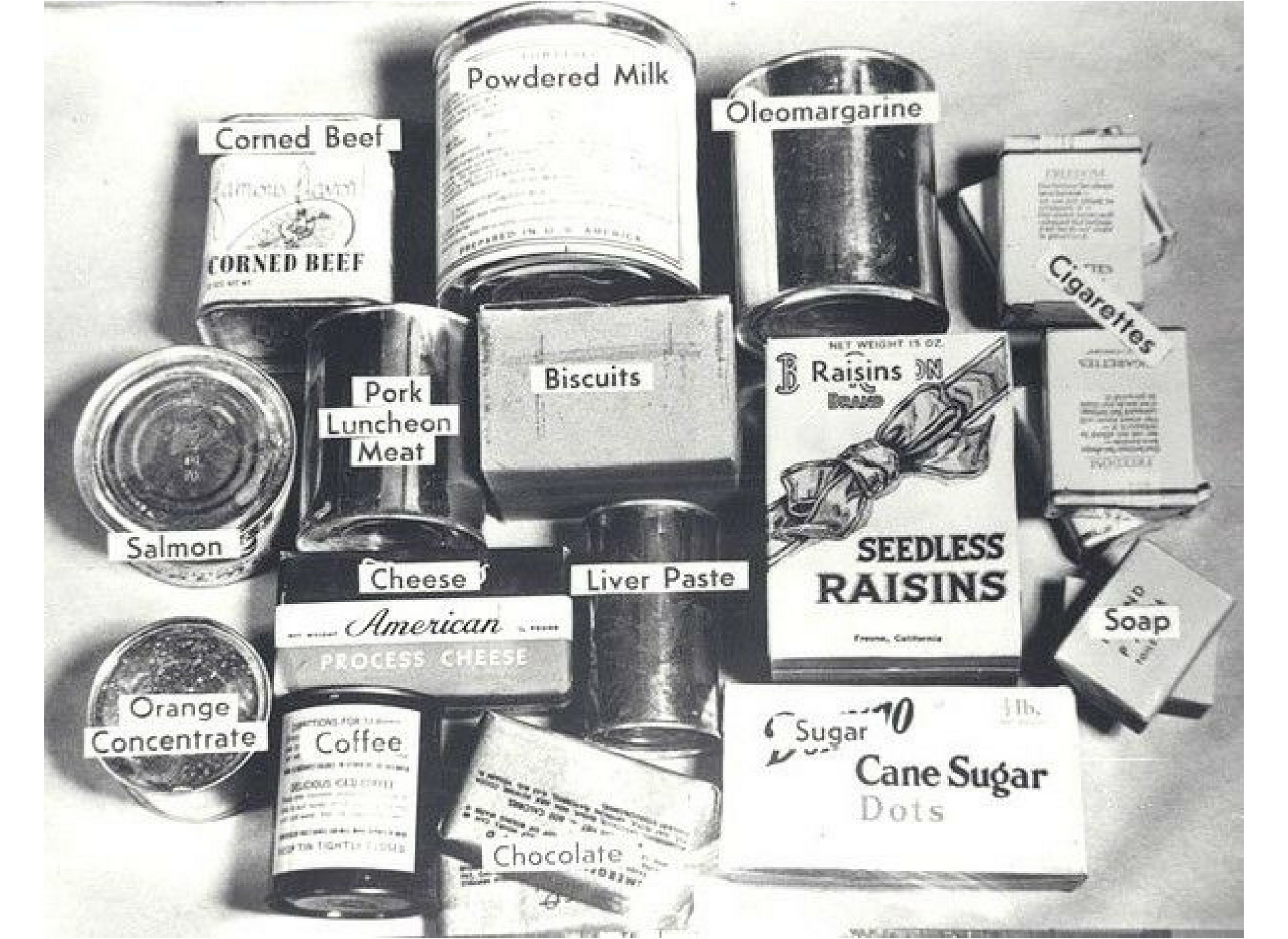 In the USA, the parcels were assembled by more than 13,000 volunteers in distribution centers such as New York, Philadelphia, Chicago, and St. Louis, and sent to the International Red Cross Committee in Geneva, Switzerland, for distribution in roughly 60 POW camps in Germany.
The packages contained nonperishable foods like prunes, raisins, liver pâté, coffee, corned beef, sugar, dried milk, oleomargarine, biscuits, orange concentrate, cheese, canned salmon or tuna fish and chocolate bars, along with amenities like cigarettes and soap.
 
In an enormous logistical feat, POWs at first received one Red Cross parcel per week, greatly alleviating the plights of the POWs.
Results: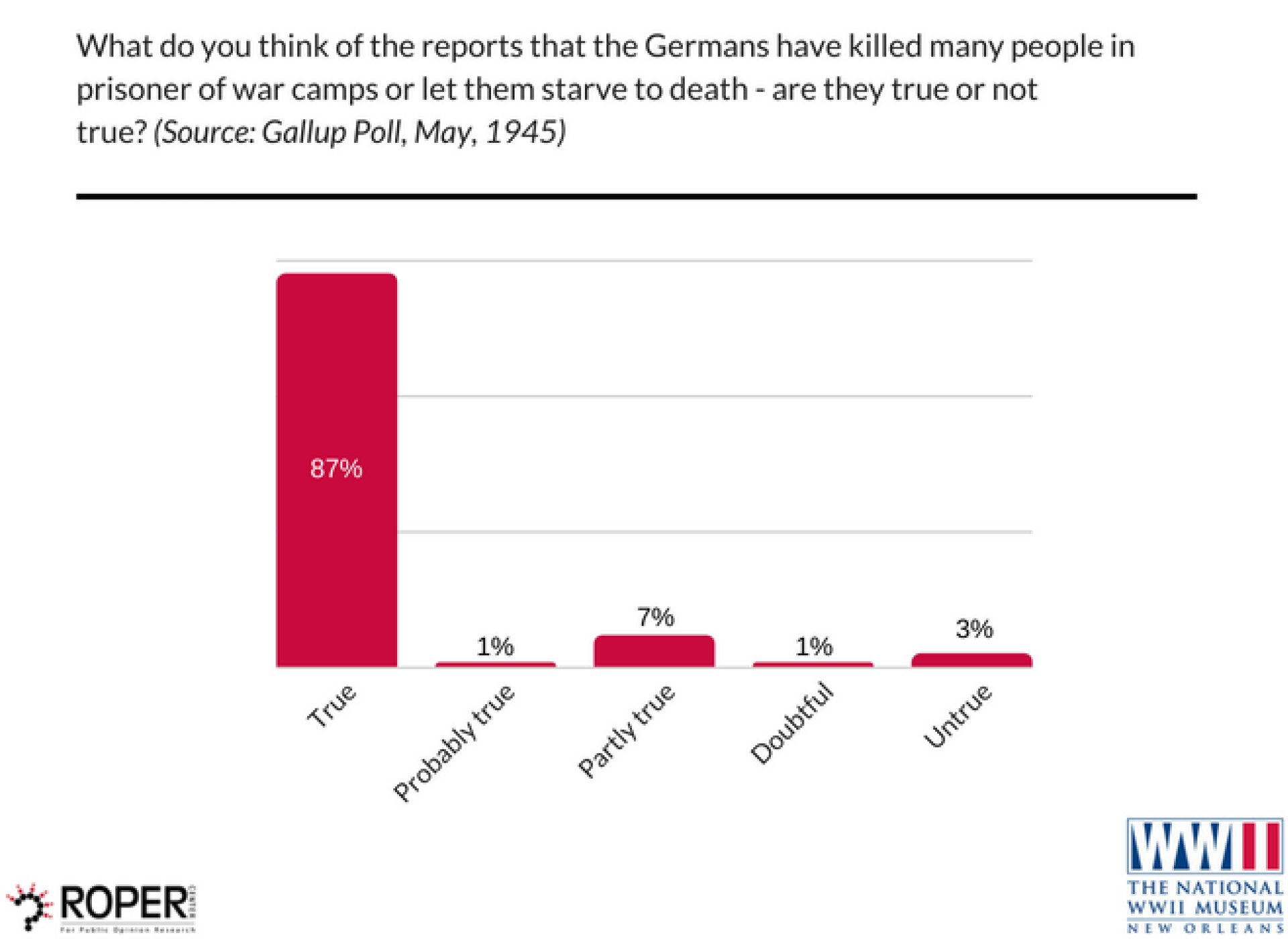 What Happened: As the war progressed, the logistics of delivering the parcels became insurmountable. The German planes that flew daily from Lisbon, Portugal (a neutral country), to Germany carrying air mail to POWS were cut off after the liberation of France in the summer of 1944. In addition, surface mail and next-of-kin parcels, which were formerly shipped to Marseille, France, were stalled from June to October 1944. Fighting along the Marseille-Switzerland line made it almost impossible to move mail into or out of Switzerland (a neutral country). As a result, POWs experienced long periods in later 1944-early 1945 where they received no Red Cross parcels and no news from home. The few rations they received were woefully inadequate as the fierce fighting on the continent led to a tripling of the numbers of American POWs.
When the Allied liberated their first POW camps in April 1945, they found prisoners in different states of poor conditions: recently imprisoned men who survived on a few slices of bread a week, those who had been in prison for a long time and suffered from the harsh conditions and the poor diet, while others, who had been on forced marches, sometimes 600 miles long, from the east as the Germans moved them inland, were in even worse shape.
The Allies themselves, and future historians, however, found no documented effort by the Germans to purposefully starve or kill American POWS. The situation was different for eastern, especially Russian prisoners of war. It is estimated that about 3.5 million, or 57% of all Soviet POWs died in German custody.
The results of this May 1945 poll can be explained by the fact that in April and early May 1945, there were numerous reports of Allied forces liberating concentration camps. The deliberate killing and starving of camp inmates was widely reported and may have been conflated with news of Prisoners of War camps by the American public. Articles such as the ones below use words such as "semi-starvation," "slave labor," mistreatment and appalling sanitary condition, when reporting on both POWs camps and concentration camps.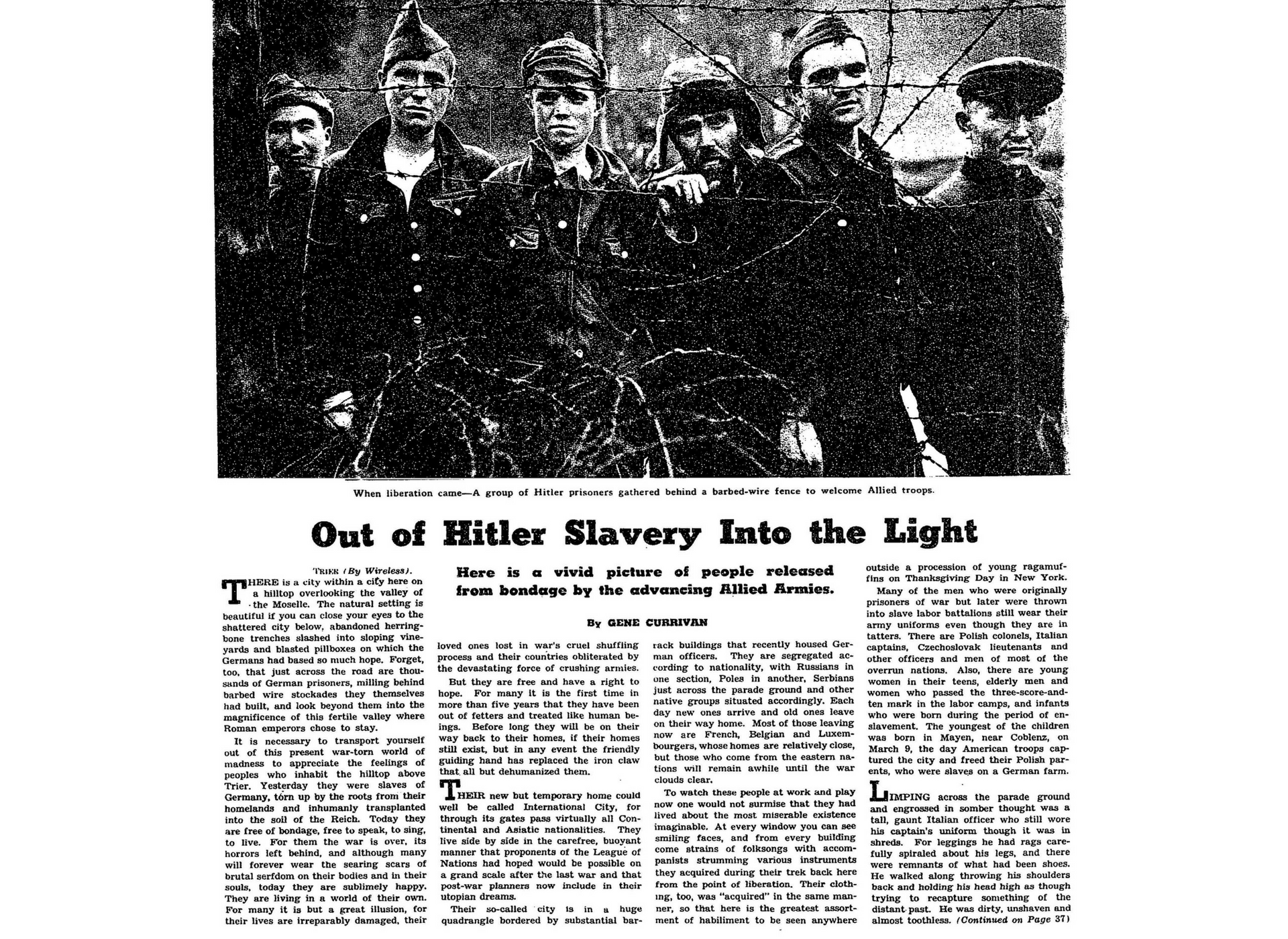 Public opinion polls give us unique insight into America in the WWII era. Each week, historians from the Institute for the Study of War and Democracy work with the archives of the Roper Center for Public Opinion Research at Cornell University to explore what Americans believed and how they felt about events and people related to the WWII years.
Read more polls

Contributor
Christelle Le Faucher, PhD, is a Research Historian in the Institute for the Study of War and Democracy. She came to the Institute in 201...
Learn More