Pride of the Marines is an engaging film that tackled, for the first time in 1945, the very real and pressing issue of more than 670,000 wounded veterans either already back in the country or making their way home. Based on the Roger Butterfield book Al Schmid, Marine, this 1945 biographical film tells the true story of the Philadelphian Albert Andrew Schmid, an apprentice steel welder at the Dodge Steel Company who enlisted in the US Marine Corps on December 9, 1941, after hearing a radio report about the attack on Pearl Harbor. At the Battle of the Tenaru (Ilu River) during the Guadalcanal campaign, Schmid defended a machine-gun post against a Japanese attack, killing over 200 Japanese enemy combatants. He was blinded by a grenade that night and later awarded the Navy Cross for his heroism.
The film is well-paced and divided into three sections that allow the audience to identify and empathize with our main character, wonderfully played by John Garfield. The first part of the movie introduces us to "average" Al, a cocky working-class young man who considers himself tough and is determined not to commit to a long-term relationship. His interaction with his landlord's family, however, makes clear that he is a good humored, thoughtful man, bringing roses for his landlady's birthday and being charming to the teenage daughter of the house. We also witness his development from being resentful of his blind date with Ruth Hartley (great performance by Eleanor Parker) to slowly falling in love with her. His youth and impulsiveness are evident when he signs up for the Marines, more as a matter of pride of belonging, of being accepted, than a real understanding of geopolitical events. Determined at first to remain unattached to Ruth, Al declares that she is free and can date anyone, before quickly regretting it. Ruth is, of course, much wiser in the relationship. Against Al's admonition, she meets him at the train station where they finally declare their love for each other and get engaged on the spot.
Having introduced our character in his familiar and emotional environment, the film then abruptly switches to the jungle of Guadalcanal in a stark contrast emphasized by the use of newsreel clips. In the summer of 1942, US Marines were struggling to take back the island, in Japanese hands since May. The middle section of the film is short, about 15 minutes, but extremely impactful in its depiction of the tension and terror of nocturnal combat. It gives a very good sense of the claustrophobic atmosphere Marines lived and fought in. The film, like the book, is very accurate in its depiction of the events. As part of the 11th Machine Gun Squad, Company H, 2nd Battalion, 1st Regiment, 1st Marine Division, Al Schmid had been assigned as an assistant gunner/loader as part of a three-man Browning (M1917) heavy machine-gun team with Corporal Leroy Diamond (played by Danny Clark in the film) and Private First Class John Rivers (Anthony Caruso). Hiding in their foxholes facing the Ilu river, the Marines repelled the attack of the Ichiki regiment on the night of August 21, 1942. Rivers was killed and Schmid took over the gun as Diamond loaded it for him until being hit himself. Schmid then both loaded and fired the machine gun for the next four hours until a Japanese soldier threw a grenade in the foxhole, blinding him. Despite his terrible injuries, Schmid continued to fire at the enemy, following directions from Diamond.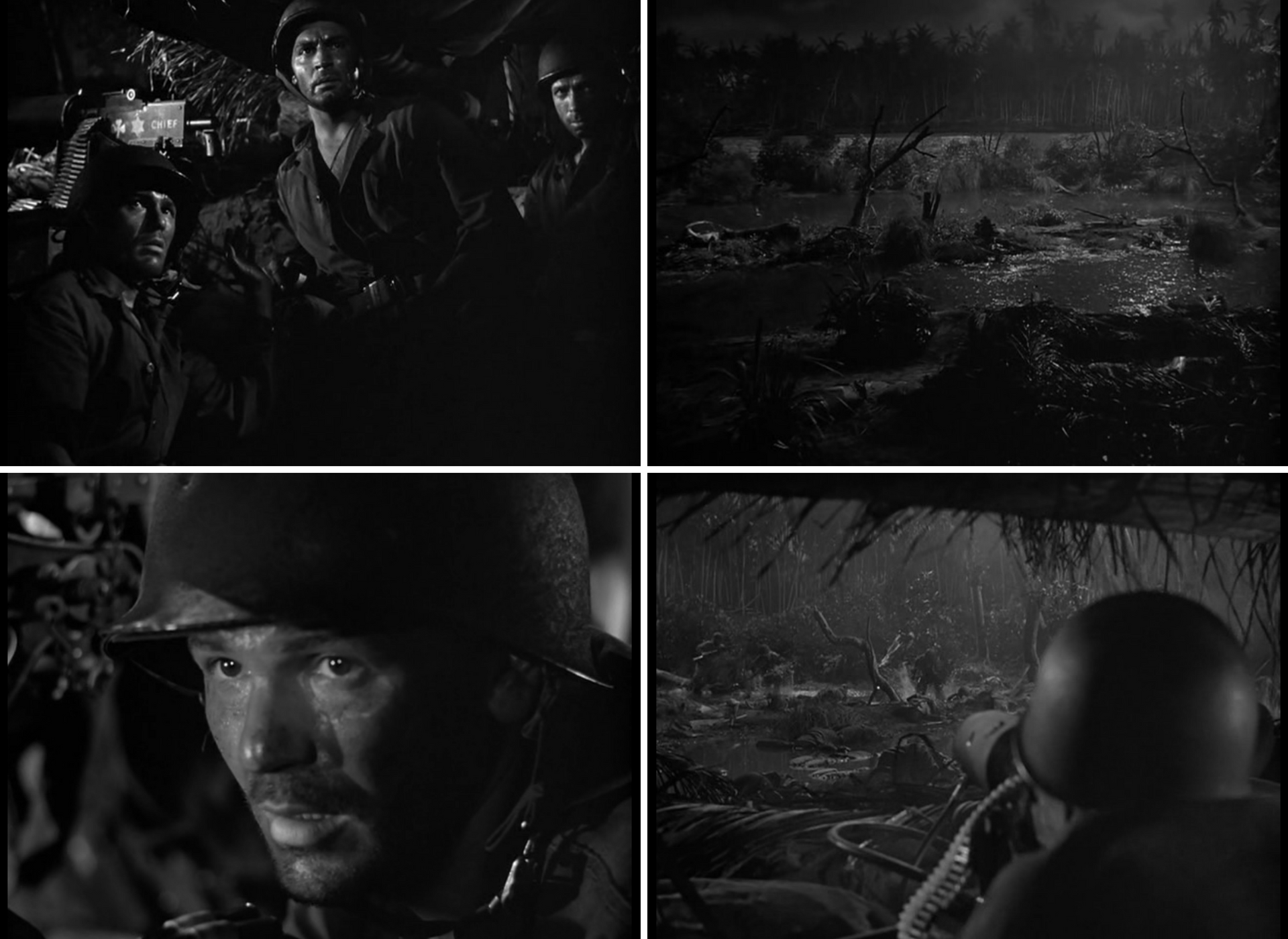 Set in the naval hospital in San Diego, California, the last section of the film deals with Schmid's arduous rehabilitation and his difficult adjustment to civilian life. The film is surprisingly frank in its depiction of Al's bitterness and initial refusal to cooperate as he is convinced that the next operation will return his eyesight. He refuses to inform Ruth about his condition and, when he fails to regain his eyesight, decides against going back to Philadelphia out of fear of being a burden. In addition to Al's path to acceptance and recovery, the film gives voice to wounded veterans, their fears and hopes for the future. The memory of the Bonus March, the WWI march that saw 100,000 unemployed and starving veterans marching on Washington, DC, in 1932, was still fresh in their memories. Some veterans at the hospital talk about using the GI Bill to go to college in order to become lawyers and change the system. Others simply fear that there is nothing for them. The social commentaries are amplified by bringing in race, as a (white) veteran complains about Mexicans taking his job before stopping at the sight of a Hispanic veteran in a wheelchair. Anti-Semitism is also mentioned by Lee Diamond: As Al expresses his fear that no employer will want to hire a blind veteran, Lee responds that he might be denied work because his last name is Diamond and he celebrates Passover instead of Easter. In a moving speech, Lee says, "You and me, we need the same kind of world, we need a country to live in where nobody gets booted around for any reason."
Later in the film, Diamond "tricks" Al and brings him back to Philadelphia where he is set to meet with Ruth again. At the same train station he bade farewell to Ruth, Al has a nightmarish vision of his loved one running away from him. Director Delmer Daves used remarkable techniques such as double printings, negative images, and telescopic shots to convey Al's eerie and unnerving experience.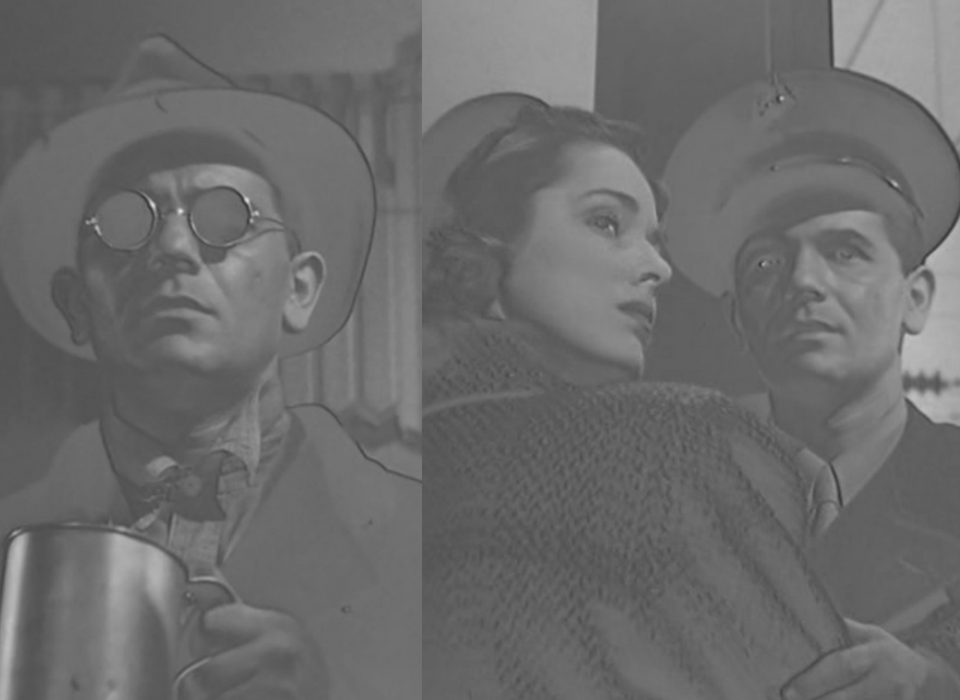 Ruth eventually convinces him of her love and that he will never be a burden. Al finally accepts his Navy Cross for heroism at Guadalcanal to honor his fallen comrades, as exemplified in the overlapping editing.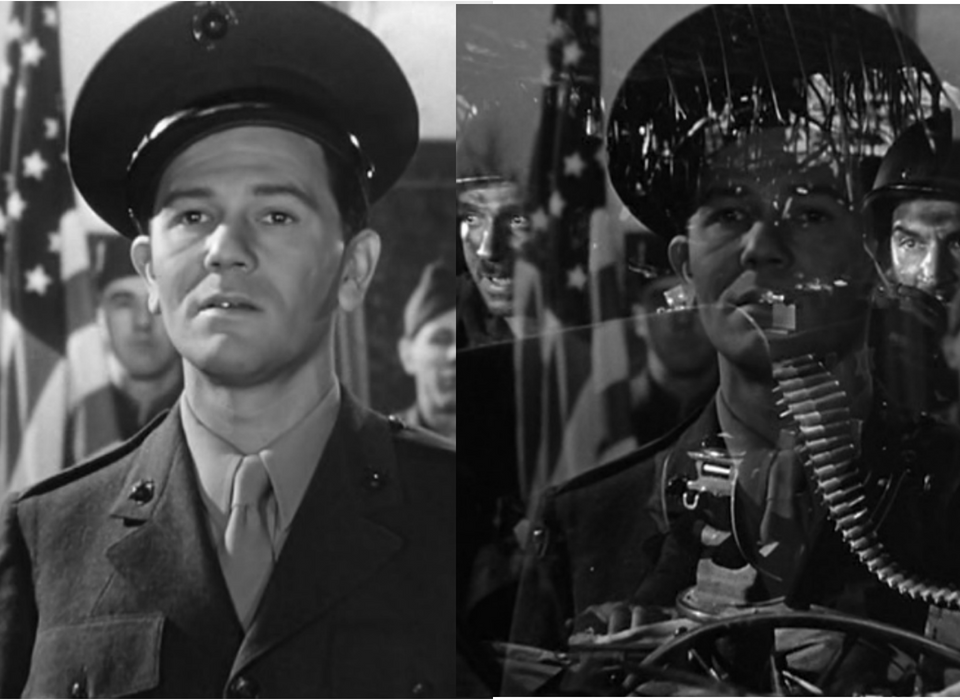 Pride of the Marines is both instructive in its depiction of the conditions on Guadalcanal and how to operate a three-man Browning (M1917) heavy machine gun, and moving in the portrayal of wounded veterans preparing to go back to civilian life. Its patriotism is not overbearing and still rings true today. And yet, the main people involved in the making of the film were soon victims of the anti-communist hysteria that swept across America in the late 1940s. First among them was screenwriter Albert Maltz, who had worked on Casablanca and was nominated for an Academy Award for Best Adapted Screenplay for Pride of the Marines, as adapted from Butterfield's book. In 1944, Maltz also published The Cross and the Arrow, a novel chronicling German resistance to the Nazi regime that was distributed in a special Armed Forces edition to more than 150,000 American fighting men during World War II. Maltz was responsible for the wordy-but-moving speeches of veterans in the hospital ward, speeches that echoed some of President Franklin Roosevelt's own thoughts and plans from his Four Freedoms speech in 1941 to the signing of the GI Bill in June 1944. By 1947, however, the Roosevelt rhetoric of freedom of speech, worship, want, and fear had been all but forgotten. Maltz became one of 10 Hollywood figures jailed in 1950 and blacklisted by the movie industry for refusing to answer questions of the House Un-American Activities Committee.
Garfield's excellent performance as the working man turned Marine is at the core of Pride of the Marines. In 1941, the Jewish actor attempted to enlist but was turned down because of his heart condition. He remained actively involved in the war effort, opening, with actress Bette Davis, the Hollywood Canteen, making bond-selling tours, and starring in patriotic films like Air Force, Destination Tokyo, and Pride of the Marines. The idea for the last film was actually Garfield's. The actor had read an article about the real-life Al Schmid in Life magazine and contacted writer Maltz, with whom he had worked on Destination Tokyo, also directed by Daves. Garfield went to Philadelphia, met the real Al Schmid, became his friend, lived in his home, and studied him. He also spent two weeks at the San Diego Naval Hospital, studying the characteristics and mental attitudes of blind casualties. Despite his unimpeachable patriotism, Garfield was called to testify before the House Un-American Activities Committee. He denied communist affiliation and refused to "name names," effectively ending his film career. Many see a connection between this political witch hunt and Garfield's premature death at 39 from a heart attack.
To learn more about the American experience in the Pacific, visit the Richard C. Adkerson & Freeport-McMoRan Foundation Road to Tokyo: Pacific Theater Galleries.
In his website series The Words of War, Keith Huxen, PhD, Senior Director of Research and History in the Museum's Institute for the Study of War and Democracy, is writing a two-part entry about Robert Leckie's memoir Helmet for My Pillow. Read Part One.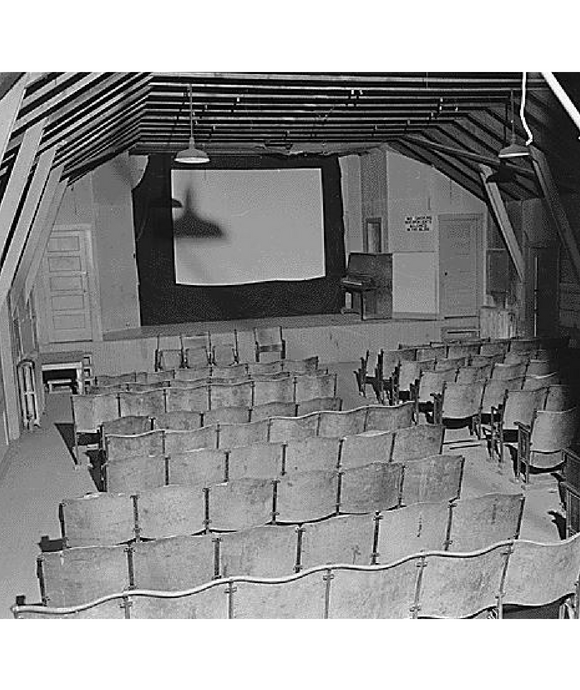 Film Reviews
Arguably the most powerful medium next to the internet, cinema has the ability to inform, mobilize, and move us—for better or worse, films shape our view of the world and of history. A close study of WWII-related films enhances our understanding of the war itself, how it was experienced, and how it is remembered.
Read more film reviews

Contributor
Christelle Le Faucher, PhD, is a Research Historian in the Institute for the Study of War and Democracy. She came to the Institute in 201...
Learn More