Tour Overview
In 1992, Museum founder and award-winning author Stephen E. Ambrose published the New York Times bestseller Band of Brothers—which became not only a successful HBO miniseries, but also a cultural phenomenon that continues today. Join staff from America's official WWII museum and notable historians for the real-life epic journey across Europe. This exclusive travel opportunity includes tour stops and special guests not featured anywhere else.
FOLLOWING IN THE FOOTSTEPS OF EASY COMPANY
The National WWII Museum provides vivid insight into the war that changed the world. But nothing can tell the story of that war more dramatically than a visit to the actual places where victory was fought for and won. Our program allows you to experience these journeys in first-class comfort as you go to the beaches, bridges, cities, and villages where crucial battles took place and history-making decisions were made. Guided by top experts in WWII history and the Museum's exclusive guides in Normandy, you'll hear the personal stories and walk in the footsteps of the Citizen Soldiers who fought for the freedom we enjoy today.
Tour Inclusions
Full-time logistical tour manager
Expert local battlefield guides
Roundtrip airport transfers (when arriving and departing on scheduled group tour dates)
Four and five-star accommodations
Private, first-class air conditioned motor coach transportation
VIP access to sites not offered on other tours
Entrance fees to all sites, museums, and historic attractions in itinerary
Video oral-history presentations from the Museum collection
Personal listening devices on all included touring
Included gratuities to guides, drivers, porters, and servers
12 breakfasts, 10 lunches, and 9 dinners
Coffee, water, soft drinks, beer, house wines included with lunches and dinners
Welcome and farewell receptions
Informative map book including useful battlefield maps and archival images to be used throughout the journey
Document wallet, personalized luggage tags, and customized name badge
Personal journal and pen to document your journey
Additional Services
Additional pre and/or post-hotel nights
Travel insurance
Flight assistance
Private transfers
We're pleased to assist you with additional services you may require, ensuring you a worry-free journey with The National WWII Museum.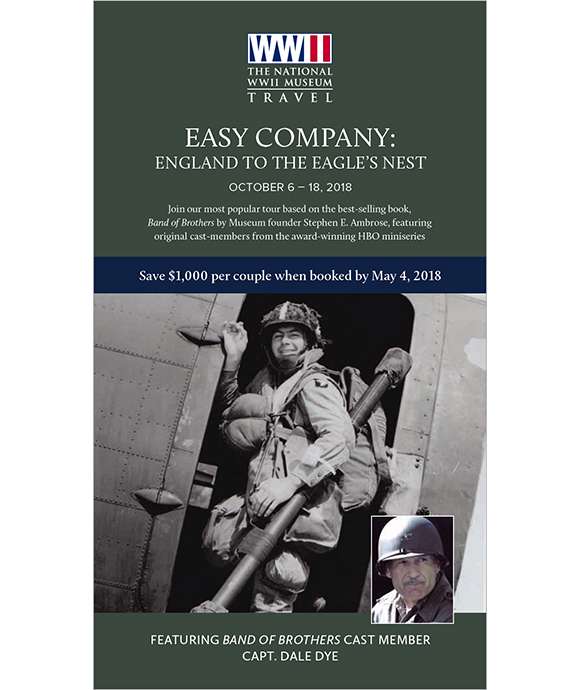 Download the Brochure
Download the official Easy Company: England to the Eagle's Nest brochure for a full listing of inclusions, accommodations, and other useful information.
Download Brochure
Extension - Optional Three-Day Pre-Tour
"Churchill's London"
October 4 - 6, 2017
We are pleased to offer Churchill's London, a three-day, optional pre-tour extension program. Guests enjoy two nights at the luxurious Rubens at the Palace Hotel, an historic property that dates back to the 1700s and has served royalty throughout the centuries since. Touring includes St. Paul's Cathedral, which managed to escape complete ruin during the Blitz of 1940; the storied Churchill War Rooms, hidden beneath the streets of Westminster; and the Imperial War Museum, home of artifacts of British conflicts from the First World War to the present. Breakfast at the hotel is included on each morning, and lunch during the day of touring is included at a traditional British pub frequented by Members of Parliament.
Rubens at the Palace Hotel
October 6, 2018 - Day 1
Aldbourne, England
After individual arrivals into London-Heathrow, the group proceeds west of the city toward the training areas of Easy Company. The tour begins in the small towns and villages of Wiltshire to gain a better understanding of where Easy Company prepared for the invasion, while they lived among the locals. A walking tour of Aldbourne and a visit to Littlecote House (506th Parachute Infantry Regiment Headquarters) is followed by a festive welcome banquet attended by some of the same villagers who would have welcomed Easy Company over 70 years ago.
Donnington Valley (D)
October 7, 2018 - Day 2
Portsmouth / Normandy

Visit Southwick House, where Eisenhower set D-Day into motion with three short words—"OK, let's go." The group lunches at the Golden Lion Pub, which served as an unofficial officers' mess leading up to the invasion. The tour then crosses the English Channel, landing in Normandy.
Manoir de Mathan (B, L, D)
October 8, 2018 - Day 3
Normandy, France

In the small town of Sainte-Mère-Église, members of the Renaud family recount what it was like to see paratroopers dropping from the night sky. Stops at the Airborne Memorial and the Airborne Museum precede an exclusive tour of Brécourt Manor and picnic lunch with Charles de Vallavielle, whose family lived at the estate at the time of the invasion and continues to reside there today. A busy afternoon continues with tours of Sainte-Marie-du-Mont, Marmion Farm, Utah Beach, the Utah Beach Museum, and the church at Angoville au Plain, where US medics treated troops from both sides of fighting.
Manoir de Mathan (B, L, D)
October 9, 2018 - Day 4
Normandy, France

Today, the group first visits the historic Château de Bernaville, where a little-known event involving US paratroopers factored heavily into the Allies' D-Day success: German General Wilhelm Falley, who was using the château as his headquarters and was visited there by Rommel just prior to D-Day, was killed by American paratroopers at 4:00 a.m. on D-Day. The group then follows the story of Easy Company at the important town of Carentan, which linked the Utah and Omaha Beach forces. Stops will include the Dead Man's Corner Museum and "Bloody Gulch."
Manoir de Mathan (B, L)
October 10, 2018 - Day 5
Normandy, France

On the group's final day in Normandy, touring is devoted to the ground troops who came ashore in the Omaha Beach area. A morning visit to Pointe du Hoc highlights the Army Rangers who faced tough odds coming ashore and scaling the imposing 100-foot cliff. Visits along Omaha Beach take place in the afternoon, and the day closes with a visit to the Normandy American Cemetery.
Manoir de Mathan (B, L, D)
October 11, 2018 - Day 6
Normandy to the Netherlands

After bidding farewell to France, the group heads to The Netherlands. Along the way, guests view exclusive oral history showcases of Easy Company men featured in the Museum's collection.
Pullman Cocagne—Eindhoven (B, L, D)
October 12, 2017 - Day 7
Eindhoven / Nijmegen

Today the tour covers the American areas of Operation Market-Garden, the failed yet heroic Allied attempt to cross the Rhine River in September 1944. Visiting Easy Company's drop zone and following its path of liberation, guests see where Dick Winters led the attack at "The Crossroads," the subject of Episode 5 of Band of Brothers, as well as members of the company helped in the rescue of over 100 British airborne troops who were stuck behind enemy lines across the Rhine in Operation Pegasus.
Pullman Cocagne—Eindhoven (B, L)
October 13, 2018 - Day 8
Arnheim / The Ardennes

The day brings a tour of Arnhem and the "Bridge Too Far" before an independent lunch in town. Guests then head to the Netherlands American Cemetery to visit gravesites of select members of Easy Company and pay respects to all buried there. Next, the group travels on to the medieval market town of Clervaux, Luxembourg, in the heart of the Ardennes. Along the way, the tour historian presents an overview of the Battle of the Bulge—Hitler's last-ditch effort to defeat the Allies in the west and the largest land battle fought by the US Army in World War II.
Hotel International—Clervaux (B, D)
October 14, 2018 - Day 9
Bastogne

This day is dedicated to the heroic defense of the besieged crossroads town of Bastogne. This includes visiting Easy Company's foxholes in the Bois Jacques and a tour of the Bastogne Barracks, where Gen. Tony McAuliffe of the 101st gave his famous reply of "NUTS!" to the Germans' request that the Americans surrender.
Hotel International—Clervaux (B, L, D)
October 15, 2018 - Day 10
Luxembourg City / Haguenau

As the group departs the Ardennes, the final stop will be to the Luxembourg American Cemetery and Memorial, where guests visit the graves of Easy Company members and Gen. George S. Patton. In Haguenau, guests walk the "Last Patrol" of Easy Company where they held fast against Operation Nordwind for more than a month.
Erbprinz Hotel & Spa—Ettlingen (B, L)
October 16, 2018 - Day 11
Dachau / Zell Am See

Located ten miles northwest of Munich, the Dachau Concentration Camp was established in 1933 to hold political prisoners. Throughout the rest of the 1930s, the camp grew to hold Jews, Roma, Slavs, and more groups deemed unworthy by the Nazis. In 1943, as total war was waged across the continent, the Nazis constructed more than 150 subsidiary camps near Dachau where prisoners were often worked to death. The terrible conditions in Dachau and throughout the subsidiary camps led to a widespread typhus epidemic by the end of 1944 as the Allied armies were preparing to enter Germany . When the first American troops approached the camp in April, 1945 the sight of the prisoners and the living conditions tested even the most battle-hardened soldiers. After reflecting on why World War II was fought, the group will head to the Bavarian Alps for the final chapter of the journey.
Grand Hotel Zell am See (B, L, D)
October 17, 2018 - Day 12
Berchtesgarden

On the final day of touring, guests take in the spectacular views from Hitler's Eagle's Nest, captured by Allied forces in May 1945. The group also tours the former headquarters and bunkers of the SS at Hotel Zum Turken and surveys the ruins of Berghof, Hitler's mountain residence. Returning to Zell am See, guests view sites where Easy Company was stationed after V-E Day, and end the day with a farewell dinner.
Grand Hotel Zell am See (B, L, D)
October 18, 2018 - Day 13
Zell Am See / Munich

An early morning group departure sees guests off at the Munich airport for individual return flights to the United States.
(B)
Featured Guest
Dale Dye
Dale Dye, a native of Southeast Missouri, graduated as a cadet officer from Missouri Military Academy in 1962. He enlisted in the United States Marine Corps in January 1964, as he had little money for college. He served in Vietnam in 1965 and 1967 – 1970, surviving 31 major combat operations. He emerged from Southeast Asia highly decorated, with awards including the Bronze Star with the V for Valor and three Purple Hearts for wounds suffered in combat. He spent 13 years as an enlisted Marine, rising to the rank of Master Sergeant before he was chosen to attend Officer Candidate School. Appointed a Warrant Officer in 1976, he later converted his commission and was a Captain when he was sent to Beirut with the Multinational Peacekeeping Force in 1982–83. He served in a variety of assignments around the world and, along the way, managed to graduate with a degree in English literature from the University of Maryland. Dye worked for a year at Soldier of Fortune magazine when he finally decided to retire in 1984. He spent time in Central America, reporting and training troops in guerrilla warfare techniques in El Salvador, Honduras, and Costa Rica before leaving the magazine in 1985 and heading for Hollywood. He founded the leading military consultancy to motion pictures and television shortly thereafter and his Warriors Inc. firm has worked on more than 50 movies and TV shows, including several Academy Award and Emmy-winning productions. He also founded Warriors Publishing Group, which publishes a distinguished slate of military-themed books written by veterans. Dye is a published novelist, screenwriter, and director as well as a consummate character actor with appearances in many films and television productions, including his role as Colonel Robert F. Sink in Band of Brothers.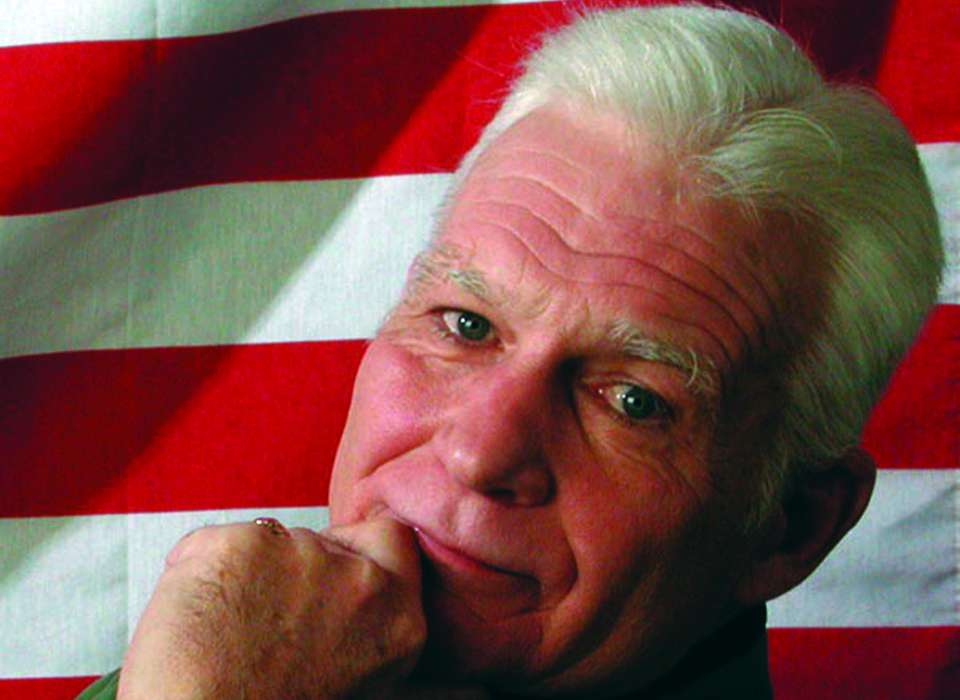 BRADFORD C. "BRAD" FREEMAN
EASY COMPANY VETERAN
Brad Freeman was destined to become a paratrooper when he and his brother jumped from their barn loft with an umbrella, thinking that it would carefully carry them to the ground. He became a member of Easy Company while the unit was stationed in Aldbourne, England. A mortarman, Freeman first saw combat in Normandy, fought in Operation Market Garden, and is one of the last survivors of Operation Pegasus. During the Battle of the Bulge, Freeman was wounded by shrapnel on the outskirts of Bastogne. He was evacuated to a hospital in England, but was able to rejoin the unit by April in time to see Hitler's Eagle's Nest in Berchtesgaden. Freeman is pictured here, second from the left, atop the Eagle's Nest over 72 years after his first visit, with guests traveling our Fall 2017 Easy Company tour.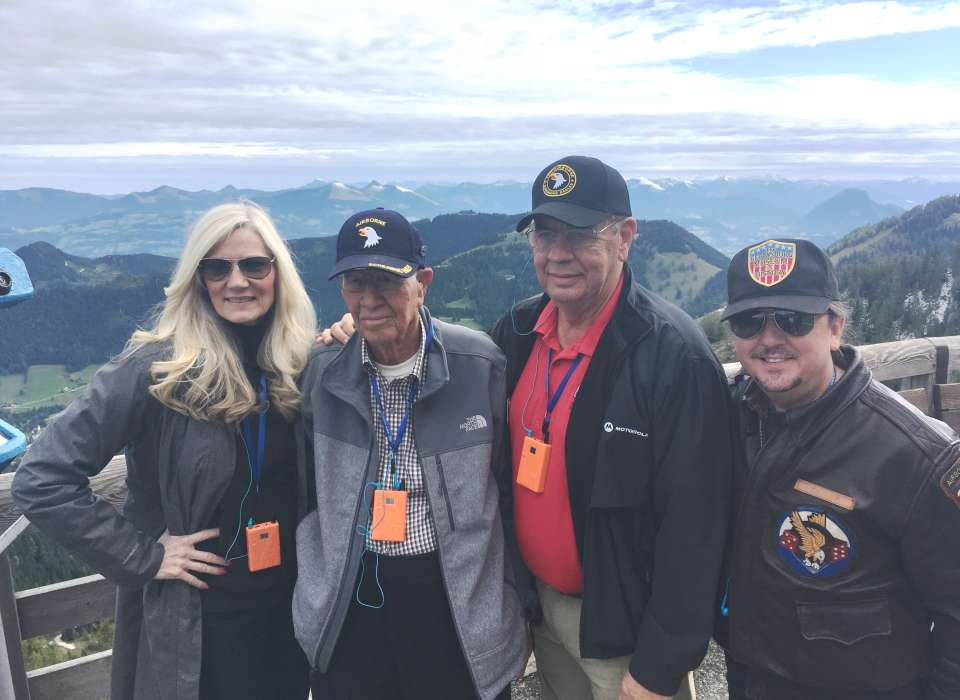 James Madio
Actor, Band of Brothers
Born and raised in the Bronx, New York, James "Jimmy" Madio is one of seven children. At the age of thirteen, on his very first audition, James landed a role in the Steven Spielberg family adventure, Hook, and never looked back. Madio's big break asa young actor then came when he co-starred with Leonardo DiCaprio and Mark Wahlberg in the highly acclaimed film, The Basketball Diaries. After a number of independent roles, Madio found himself once again, on another Spielberg set, this time as a lead cast member in the Emmy Award-winning HBO miniseries, Band of Brothers, portraying WWII hero Sgt. Frank Perconte. This would become a turning point in Madio's career, putting him in the national and international spotlight in a timeless piece that continues to air today. Moreover, Madio continues to support troops by speaking at WWII veteran engagements around the world. Currently, Madio's career has extended to behind the camera, having acted, produced and written several award-winning independent projects (both features and shorts). His voice can also be heard in the DreamWorks animated movie, Shark Tale, and on theCall of Duty video game franchise.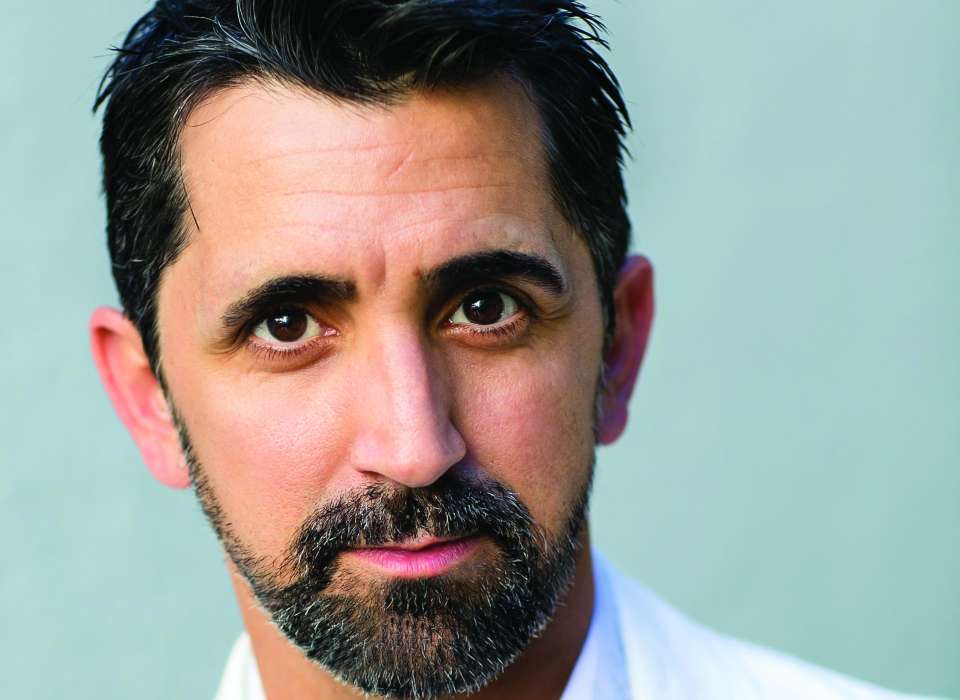 Actor, Band of Brothers
Matthew Leitch
An English actor who grew up and attended school close to the English town of Selby, Yorkshire, Matthew Leitch comes from a military family. Leitch's father was a paratrooper in the British Army before leaving the military to become a medic.
After attending drama school, Leitch landed the lead role on the Nickelodeon show Redford Rejects, in which he played a star soccer player who breaks his leg and ends up coaching a team of ... well, "rejects." Leitch graduated to movies and starred in the HBO award-winning film A.K.A., catching the eye of the Band of Brothers casting team. He auditioned to play several characters, and eventually landed the role of First Sergeant Floyd Talbert, Dick Winters' guardian angel.
Diverse roles in movies followed his Band of Brothers appearance, including The Detonator, opposite Wesley Snipes; The Dark Knight, and Strike Back. Leitch also returned to Nickelodeon programming in Genie in the House and Which Is Witch. He recently completed the new movie Country of Hotels.
Leitch's hometown of Selby is coincidentally twinned with Carentan in Normandy -- an association that works to promote friendship between the people of the two cities with group visits and joint events. In his personal life, Matthew paid homage to Sergeant Talbert when he named his own son Floyd.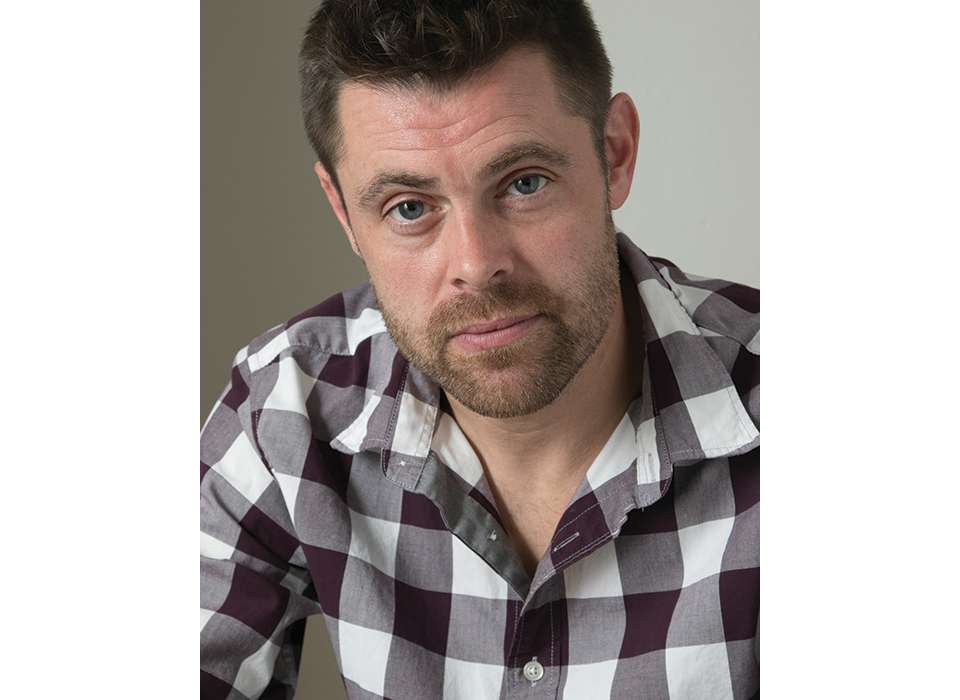 Featured Hotel
Grand Hotel—Zell Am See, Austria
At the end of the war, Grand Hotel Zell am See was occupied by US forces for 10 years, and is best known as the hotel where the Band of Brothers spent time—and is a rewarding finish to your pilgrimage honoring Easy Company. This superior four-star hotel is located in a unique location on a private peninsula directly on the shore of Lake Zell. In existence for more than 120 years, it provides the highest level of Gemütlichkeit, or regional hospitality, to our guests. Here we've specially arranged for all of our guests to receive lake-view rooms with balcony. A farewell reception and dinner at this breathtaking property provides an excellent end to your tour.
Pre-Tour Hotel
Rubens at the Palace
We are pleased to offer Churchill's London, a three-day, optional pre-tour extension program. Guests enjoy two nights at the luxurious Rubens at the Palace Hotel, a historic property that dates back to the 1700s and has served royalty throughout the centuries since. Touring includes St. Paul's Cathedral, which managed to escape complete ruin during the Blitz of 1940; the storied Churchill War Rooms, hidden beneath the streets of Westminster; and the Imperial War Museum, home of artifacts of British conflicts from the First World War to the present. Breakfast at the hotel is included on each morning, and lunch during the day of touring is included at a traditional British pub frequented by Members of Parliament.
Tour Hotel
Donnington Valley
Situated in the heart of the Berkshire countryside just outside Newbury, Donnington Valley is a privately owned, four-star country hotel. Designed for work, relaxation, and play, the hotel boasts an award-winning restaurant, state-of-the art spa and health club, and stunning 18-hole golf course.
Tour Hotel
Manoir de Mathan
This boutique hotel is located in an ideal location to explore the beaches of Normandy and the surrounding area. Nestled between Bayeux and Arromanches, and once home to the king, the hotel will leave you with a lasting impression of your stay. With it's beautiful gardens and rich historical heritage, the hotel combines calm, charm and romanticism.
Tour Hotel
Pullman Eindhoven Cocagne
This beautiful four-star hotel is located in the charming heart of Eindhoven, just opposite the luxury De Heuvel shopping center. The Pullman Eindhoven Cocagne is well-known for its Vestdijk 47 restaurant and bar. Rooms are spacious and include complimentary Wi-Fi, minbar, high-definition television, in-room safe, and room service.
Tour Hotel
Hotel International, Clervaux, Luxembourg
The four-star Hotel International is located in the center of the charming city of Clervaux, at the heart of the Luxembourg Ardennes. Two restaurants, a lounge, spa, indoor swimming pool, and fitness center will ensure you enjoy your stay.
"This trip was the most memorable, moving experience I have ever had. Our tour operator and battlefield guide were both exceptional and the entire trip ran smoothly and without incident. Our time spent following Easy Company was powerful."
Patricia K.
Blaine, Washington
---
"Extremely well organized; locations visited follow the book very closely."
—James M., Arnold, Massachusetts
---
"Great value, no way you could do something like this on your own for comparable money."
—Greg E., Lexington, Kentucky
---
"I taught history for 35 years and was amazed at how much I learned on this trip. I felt that the bottom line was that I received excellent value for the money spent."
—Stan W., Pamona, New York
---
"The program was well organized and run very well. We were treated excellently by all concerned. From the outset everyone involved was courteous, helpful and interested in seeing that we got maximum attention and value. We were extremely pleased." 
—Andrew S., Fredricksburg, Virginia
---
"It was the trip of a lifetime. Very well planned and executed. All aspects were five star."
—Constance S., Chelsea, Alabama
---
"This was an excellent tour. As usual for the WWII Museum everything was first rate. The guides,bus drivers and the tour director were great. Enjoyed every aspect of the trip." 
—Chester M., Houma, Louisiana
Program Pricing
Price per person based on Double Occupancy
$6,495 
---
Price per person based on Single Occupancy
$8,490
---
$329 per person taxes and fees will be included on final invoice
---
Pre-Tour Extension Options
"Churchill's London"
Price per person based on Double Occupancy
Optional three-day pre-tour extension program
$1,799 
---
"Churchill's London"
Price per person based on Single Occupancy
Optional three-day pre-tour extension program
$2,398
---
$99 per person taxes and fees will be included on final invoice