Tour Overview
Join Dr. Alexandra Richie and Dr. Peter Caddick-Adams on a picturesque journey along the river where the most important military link-up of World War II occurred. When Soviet and American forces linked up near Torgau, it was a clear sign that Germany's final defeat was near. Along the way, visit Berlin, Dresden, Wittenburg, Torgau, and Prague.
JOURNEY ALONG THE ELBE RIVER
The Elbe River is one of Europe's most storied waterways as well as the site of one of the most famous military linkups in world history: the monumental meeting between the forces of the Western Allies and the Soviet Union on April 25, 1945. Join historians Alexandra Richie, D-Phil, and Peter Caddick-Adams, PhD, as we revisit this monumental meeting near Torgau. This convergence was the result of years of hard-won battles, and meant that the end of the war was finally near. From the east, the Soviet Union won a long and vicious battle in Stalingrad from November 1942 to February 1943, and embarked on a slow and costly push toward Germany. In the west, American forces faced a difficult and costly 100 days in Normandy, overcoming fierce German resistance in the Huertgen Forest and the Ardennes to cross the Rhine and push toward Berlin. Once both forces reached the banks of the Elbe, photographers spent days arranging photos of the soldiers shaking hands and celebrating.
During our cruise, visit the rebuilt city of Dresden, site of one of the most infamous bombing raids in history; tour the birthplace of the Protestant Reformation in Wittenburg, with stops at the All Saints Church and the Luther House; and bear witness the Nazis' attempt to hide the true nature of their extermination policies from the world at Theresienstadt Concentration Camp.

Book Your Trip With Us!
Save $1,000 per couple when booked by January 31, 2019!
Additional discounts for single travelers, please call our team at 1.877.813.3329 x 257 for details.
Book Your Trip
Tour Inclusions
8-night river cruise experience aboard the intimate paddlewheel-driven ship MS Elbe Princesse
Full-time access and nightly conversations with featured historians Dr. Alexandra Richie and Dr. Peter Caddick-Adams
Full-time logistical tour manager
Expert local battlefield guides
8 Breakfasts, 7 Lunches, and 8 Dinners
Welcome and Farewell Receptions
Beer, wine, spirits, coffee, water, tea, and soft drinks throughout the cruise
A comprehensive collection of included shore excursions
Personal listening devices on all included excursions
Entrance fees to all sites, museums, and attractions on included excursions
Video Oral History presentations from the Museum's collection
Private, air-conditioned motor coach transportation on all shore excursions
Roundtrip airport transfers (when arriving and departing on scheduled group tour dates)
Included gratuities to shipboard crew, guides, drivers, and porters
Informative map book including useful battlefield maps and archival images to be used throughout your journey
Personalized luggage tags and customized name badge
Keepsake journal and pen to document your journey
Complimentary bottled water included on all excursions and transfers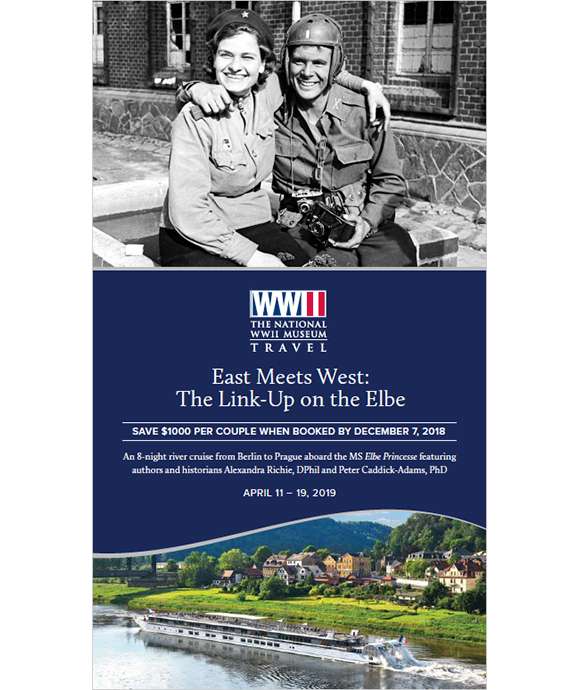 Download The Brochure
Download the official Elbe River brochure for a full listing of inclusions, accommodations, and other useful information.
Download Brochure
Extension - Optional Two-Night Pre-Cruise Program
Berlin: From Nazism to the Wall
April 9 to April 11, 2019
This custom-curated optional pre-cruise program in Berlin focuses on the city as both the center of the Third Reich and ground-zero for Cold War tensions. The program begins with a visit to the German-Russian Museum, located at the historic site of the surrender of the German Armed Forces on May 8, 1945 in Berlin-Karlshorst. Visit the Reichstag, home of German Parliament, and enjoy an included lunch. In the afternoon, explore the Olympic Stadium, home of the 1936 Olympics, and visit the Allied Museum in the heart of the former American Sector. The following day, uncover the city's Cold War history with stops along the remains of the Berlin Wall and at the Checkpoint Charlie Museum. See how items as small as a broken javelin or pages from a school textbook could symbolize Cold War tensions almost as strongly as the massive and tightly guarded Berlin Wall. Board MS Elbe Princesse after the second day of touring.
Sofitel Berlin Kurfürstendamm
April 11, 2019 - Day 1
Berlin
Arrive into Berlin Tegel Airport (TXL) this morning and transfer to the Sofitel Berlin Kurfürstendamm to store luggage prior to embarkation on MS Elbe Princesse later this afternoon. Relax in the hotel lobby, or enjoy lunch and free time to explore independently. During the years that Berlin was divided, this area was the center of West Berlin. Reminders of the city's history surround the hotel, from famous Café Kranzler to the Kaiser-Wilhelm Memorial Church and nearby Berlin Zoo. The onboard journey begins later this evening during a Welcome Reception and Dinner aboard MS Elbe Princesse.
MS Elbe Princesse (R, D)
April 12, 2019 - Day 2
Potsdam
Dock in Potsdam this morning for a visit to the House of the Wannsee Conference. This lakeside villa is where Obergruppenfuhrer Reinhard Heydrich and other high-ranking Nazis gathered in 1942 to devise the "Final Solution," the extermination of the Jewish population of Europe. In 1992, on the 50th Anniversary of the Conference, the Wannsee House reopened as a United States Holocaust Memorial Museum. Continue to Cecilienhof Palace, site of the post-war Potsdam Conference where Truman, Attlee, and Stalin discussed the partition of Germany and the trials of Nazi war criminals in 1945. Return to the ship this afternoon to enjoy a late lunch and a leisurely afternoon sailing towards Magdeburg. A conversation with Dr. Richie and Dr. Caddick-Adams during an evening reception recaps the day's touring.
MS Elbe Princesse (B, L, D)
April 13, 2019 - Day 3
Magdeburg
This morning, enjoy cruising and attend an optional lecture regarding this afternoon's tour. Magdeburg has the unfortunate distinction of having been destroyed twice in its history. During the Thirty Years' War, the important Protestant city was attacked by a force estimated to have been 40,000 strong. After a day of heavy artillery attacks and several days of looting, many buildings and homes were destroyed, and the city retained only a small fraction of its population following the battle. It never fully regained its former standing as an equal in importance with the cities of Hamburg and Cologne. In January 1945, a raid by the Royal Air Force again destroyed most of the city. The Magdeburg Cathedral stands as one of only a few structures to have withstood both attacks.
MS Elbe Princesse (B, L, D)
April 14, 2019 - Day 4
Wittenberg
As the cruise continues south, visit the city of Wittenberg, famous for Martin Luther's 95 Theses and spared destruction by the Allies during World War II. The catalyst for the Protestant Reformation, Luther's protests against policies and corruption in the Catholic Church had wide-ranging and long-term effects on the region. Visit the All Saints' Church where the doors commemorate Luther's actions and the UNESCO World Heritage Site, the Luther House.
MS Elbe Princesse (B, L, D)
April 15, 2019 - Day 5
Torgau
In Torgau, the story turns to the monumental meeting on the Elbe between American and Soviet forces. The tour visits both sides of the river: the western side where the American advance was ordered to halt, and the eastern side where the Soviets stopped. At the time of the meeting, plans were already underway to split Germany into occupation zones, and the Red Army was attacking Berlin. During the Cold War, this river would form a portion of the boundary between East Germany and West Germany
MS Elbe Princesse (B, L, D)
April 16, 2019 - Day 6
Meissen & Dresden
This morning, an optional cultural tour of Meissen is offered. Meissen is famous for the manufacture of porcelain, based on extensive local deposits of china clay and potter's clay. Meissen porcelain was the first high-quality porcelain to be produced outside of the Orient. This afternoon, dock in Dresden, one of the most important centers of modern art and dance in early 20th century Germany. Tragically, the Allies firebombed Dresden in 1945, almost completely destroying its architecture, paintings, theaters, and museums. During the attack, POW Kurt Vonnegut survived by securing himself in an underground meat locker. The experience became the inspiration for his acclaimed work Slaughterhouse-Five. The creative heart of Dresden's residents remained intact, and painstaking restorations of the buildings continue to this day. Pay a visit to the Bundeswehr Military History Museum, located inside a former arsenal. Continue on to Frauenkirche, the Church of Our Lady. Destroyed during the firebombing of Dresden in 1945, the ruins of the church sat for almost 50 years as a monument to World War II. A conversation with Dr. Richie and Dr. Caddick-Adams during an evening reception recaps the day's touring.
MS Elbe Princesse (B, L*, D)
April 17, 2019 - Day 7
Bad Schandau
Dock near the Czech Republic border and travel to one of the largest hilltop fortifications in Europe. The Königstein Fortress has been declared impregnable at several times throughout its history. Saxon kings would retreat to this fortress in times of war or instability, and cultural treasures would be hidden inside. During World War II, the fortress served as a prison – first for Polish POWs, and later for French officers and generals. In April 1942, French General Henri Giraud escaped the prison by lowering himself down the outer walls and jumping onto a train headed to France. He then traveled to North Africa via a British submarine.
MS Elbe Princesse (B, L, D)
April 18, 2019 - Day 8
Litoměřice
Outside the town of Litoměřice, visit the Theresienstadt Concentration Camp, which primarily housed Jews from Bohemia, the Netherlands, Denmark, and Germany, and later was a transfer point to the death camps in Poland. To the outside world, the Nazis presented Theresienstadt as a model for Jewish resettlement. Propaganda films showed Jews living a comfortable life under the protection of the Third Reich with art and cultural activities available to all. Included in the films was the children's opera Brundibár, written in 1938 and first performed by child inmates of the camp. A farewell reception, dinner, and special Q&A session with our featured historians this evening provides a meaningful end to a memorable voyage.
MS Elbe Princesse (B, L, R, D)
April 19, 2019 - Day 9
Litoměřice/Prague
Disembark the MS Elbe Princesse this morning and transfer to the Vaclav Havel Airport in Prague or continue on the optional, post-cruise extension program, Prague: Repression and Revolt.
(B)
Extension - Optional Two-Night Post-Cruise Program
Prague: Repression and Revolt
April 19 - 21, 2018
Explore the history of Prague, beginning with the Nazi takeover in 1939 and the systematic execution of its Jewish population. As Nazi Germany was in full retreat and nearing surrender in May 1945, the citizens of Prague rose up in rebellion to ensure that the Werhmacht could not continue fighting from Czech territory. The rebellion ended with the German surrender on May 8, 1945, and the Red Army occupied the city. By 1948, a repressive Communist government controlled Czechoslovakia. Visit sites associated with the German occupation and the Communist period, including the Jewish Quarter, Prague Castle, and the Church of Cyril and Methodius, where Reinhard Heydrich's assassins made their last stand.
Hotel Paris Prague
Featured Historian
Alexandra Richie, DPhil
Alexandra Richie is a historian of Germany as well as Central and Eastern Europe, with a specialization in defense and security issues. She completed her B.A. (Hons) in Political Science at the University of Victoria and went on to study at St. Antony's College, Oxford, where she wrote her doctoral thesis, The Political Manipulation of History in East and West Germany.
Richie is also the author of Faust's Metropolis: A History of Berlin, which was named one of the top ten books of the year by American Publisher's Weekly, and Warsaw 1944, which won the Newsweek Teresa Torańska Prize for best non-fiction book of 2014 and the Kazimierz Moczarski Prize for Best History Book in 2015.
She has contributed to many articles, documentaries, radio, and television programs, and is the Convener of the Presidential Counselors at The National WWII Museum. She is also a member of the Senate at the Collegium Civitas University in Warsaw, Poland, and the Władysław Bartoszewski co-chair of History and International Studies at the Collegium Civitas. Dr. Richie is a favorite with our travelers and has hosted dozens of tours with The National WWII Museum to destinations in Germany, Poland, along the Elbe, and in the Baltic.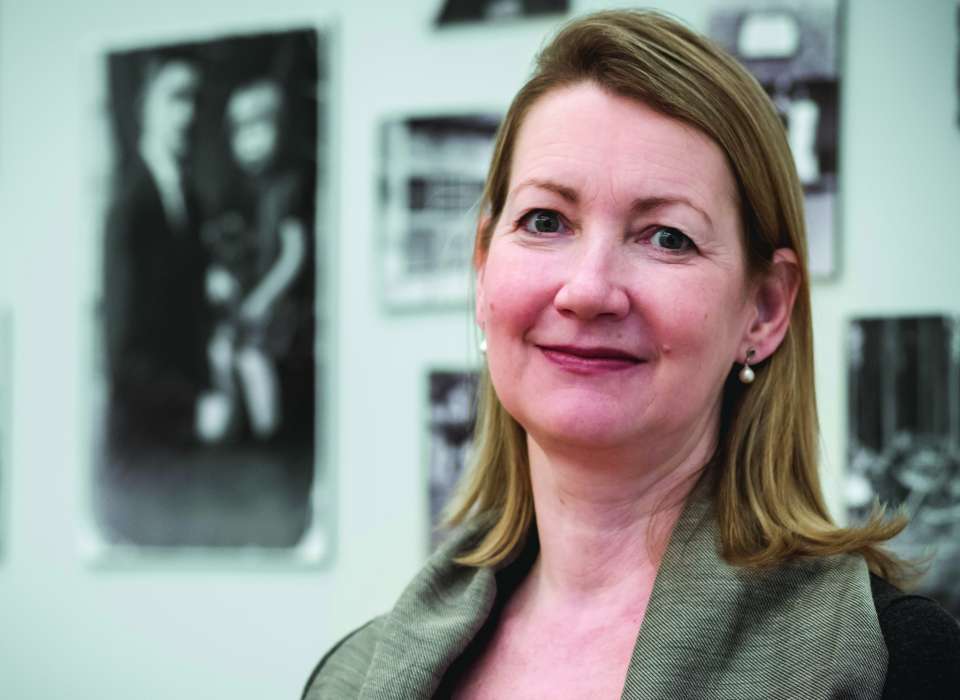 Featured Historian
Peter Caddick-Adams, TD, PhD, FRHistS
Peter Caddick-Adams, TD, PhD, FRHistS, has lectured at the UK Defence Academy since 1999. He was educated at Shrewsbury School, Sandhurst, and Wolverhampton University, gaining First Class Honours in War Studies; he received his PhD from Cranfield University. Caddick-Adams is now widely regarded as the battlefield guide of choice for princes, peers, politicians, military commanders and senior executives, having taken thousands of British, US, and NATO troops to battlefields across the world and in 2008 led a private tour of British royals to Normandy.
With over 500 battlefield visits around the world to his credit, he covers all periods in history from the Romans to the present day, and has also led many official commemorations with serving soldiers and veterans. Caddick-Adams first visited Normandy in 1975 in a Jeep driven by a D-Day veteran, and has studied the campaign ever since.
A Fellow of the Royal Historical Society, he was previously a Visiting Lecturer at Oxford and Birmingham Universities, and now lectures at staff colleges around the world on military history, doctrine, terrorism, psychological and media operations, most recently in Afghanistan. He is a regular commentator on BBC and Sky for major events. His recent books include Monty and Rommel: Parallel Lives (Random House, 2011) and Monte Cassino: Ten Armies in Hell (Oxford University Press, 2012).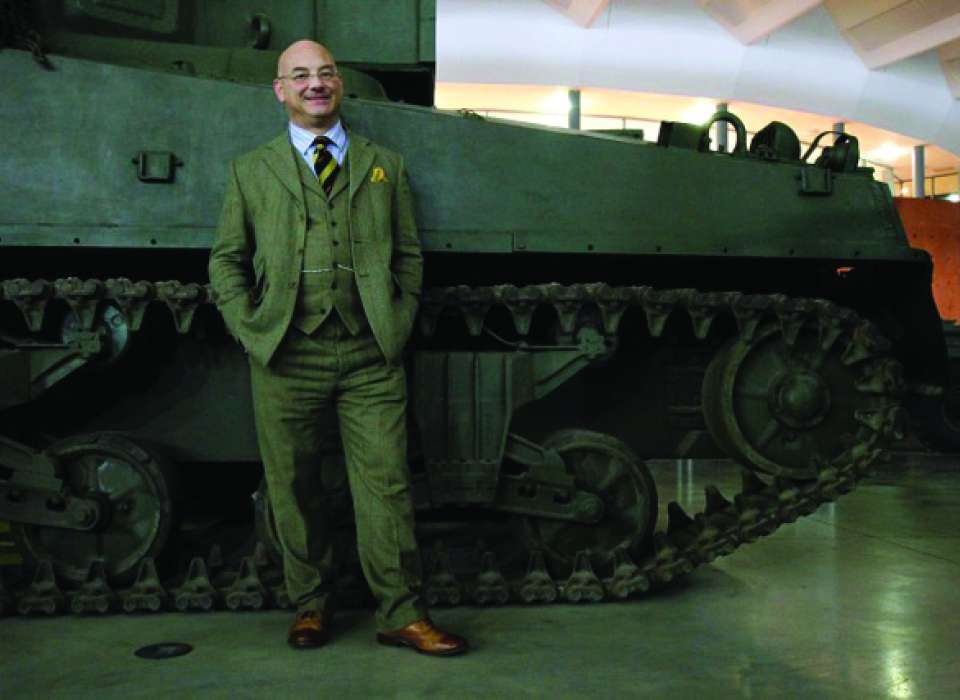 Optional Pre-Cruise Hotel
Sofitel Berlin Kurfürstendamm Hotel
The Sofitel Berlin Kurfürstendamm combines art and architecture and this luxurious modern hotel is characterized by elegance and understatement. The exclusive interior design is enhanced by an elegant lighting concept, warm tones and modern art. Rooms include complimentary WiFi, flatscreen TV, walk in closet, Nespresso machine and Bose audio system.

Paris Prague Hotel
A two-minute walk from a metro stop, this palatial Art Nouveau-style hotel in Prague's Old Town dates from 1904. Featuring free Wi-Fi, the airy, sophisticated rooms come with flat-screen TVs and minibars. They also have heated floors in the bathrooms, and some have balconies. The hotel was declared a historical monument in 1984.
The Ship
MS ELBE PRINCESSE
Launched in April 2016, the 311-foot-long MS Elbe Princesse accommodates just 80 passengers for this exclusively chartered voyage. Her two stern-mounted paddlewheels and shallow draft (less than three feet of the hull is below the waterline) make Elbe Princesse capable of navigating the Elbe River's low water levels, allowing her to sail from Berlin straight into the heart of Prague at lower water levels than other vessels. With just two passenger decks, Elbe Princesse is a small river cruise ship that's big on space. The ship's lounge and the dining room can seat all guests in a single sitting. The Scandinavian interior design is modern and playful (with pops of magenta pink and teal set against stark black and white), while remaining comfortable and functional.
Deck Plan - ELBE PRINCESSE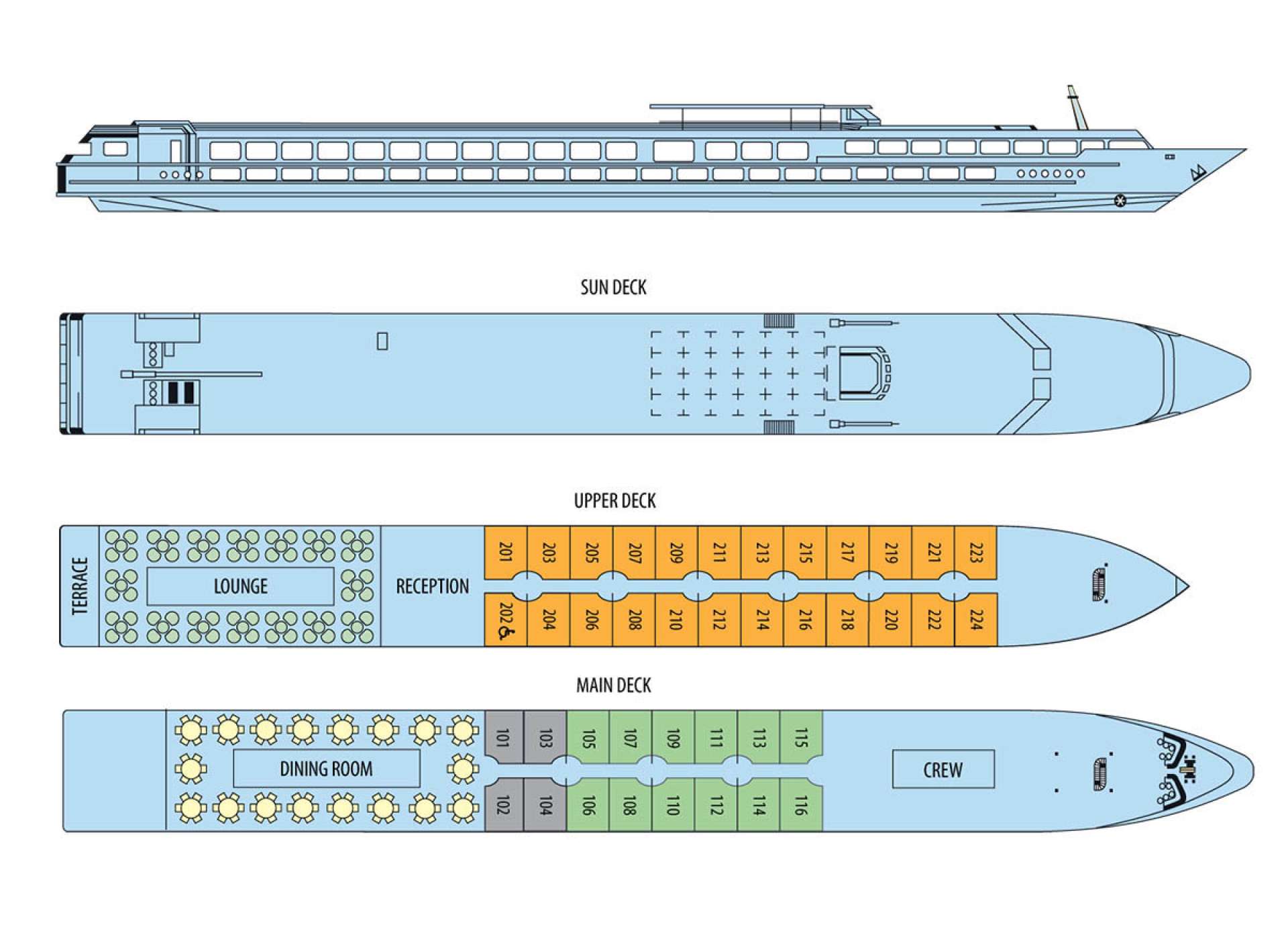 Staterooms
All staterooms are equipped with a flat-screen satellite television, hair dryer, mini-safe, desk, makeup mirror, closet with storage, and a private bathroom with shower. Each stateroom is also equipped with individually controlled heating and air conditioning to ensure your personal comfort throughout the cruise. The vessel is not outfitted with an elevator.
Cruise Stateroom Options
Category A Stateroom - Double Occupancy
$6,995 per person; early booking $6,495
---
Category B Stateroom - Double Occupancy
$6,595 per person; early booking $6,095
---
Category C Stateroom - Double Occupancy
$5,995 per person; early booking $5,595
---
Category A Stateroom - Single Occupancy
$9,593 per person; early booking $9,093
---
Category B Stateroom - Single Occupancy
$9,033 per person; early booking $8,533
---
Port taxes and fees of $229 per person are additional.
---
Pre-Cruise Extension Options
Berlin: From Nazism to the Wall - Double Occupancy
Two-Night Pre-Cruise Extension
$1,598 per person (includes $99 per person taxes and fees)
---
Berlin: From Nazism to the Wall - Single Occupancy
Two-Night Pre-Cruise Extension
$2,498 per person (includes $99 per person taxes and fees)
---
Post-Cruise Extension Options
Prague: Depression and Revolt - Double Occupancy
Two-Night Post-Cruise Extension
$1,398 per person (includes $99 per person taxes and fees)
---
Prague: Depression and Revolt - Single Occupancy
Two-Night Post-Cruise Extension
$2,178 per person (includes $99 per person taxes and fees)
---
Port taxes and fees of $99 per person included in the above pre- and post- cruise extension pricing.