MANUFACTURING VICTORY: THE ARSENAL OF DEMOCRACY: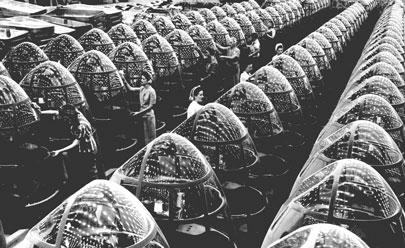 Manufacturing Victory: The Arsenal of Democracy
National touring exhibit presented by HP
Additional support provided by Citi and Motorola Solutions
Available for travel March 2016
In 1940, the world was at war. But the United States—a virtually unarmed nation still struggling with the Great Depression—was not. Most Americans, wary from our previous experiences with the Great War and focused on their own economic security, wanted to keep it that way. But it was clear to its leaders that America must find a way to support Britain's fight against Germany—if only to keep American boys away from the front lines. President Roosevelt, knowing that Americans could not afford to let England fail, called the nation to serve in a different way:
Our Allies "ask us for the implements of war, the planes, the tanks, the guns, the freighters which will enable them to fight for their liberty and for our security. Emphatically we must get these weapons to them, get them to them in sufficient volume and quickly enough, so that we and our children will be saved the agony and suffering of war which others have had to endure."
The special exhibit Manufacturing Victory: The Arsenal of Democracy shows how ordinary Americans responded to Roosevelt's call to action, transforming the United States from an isolationist nation still reeling from the Great Depression into the world's greatest industrial power defined by ingenuity, effort, engagement, and opportunity. In factories throughout the country, Americans of every stripe worked to produce tanks, planes, ships, and guns in an unprecedented surge that not only brought the country out of depression, but created our mighty military forces, supplied the Allies abroad, opened new doors of opportunity to millions of citizens, and propelled social change on the Home Front.
It was an era of tremendous industry and innovation, solidarity, and hope; a moment of unprecedented engagement and connectedness. As Americans took Roosevelt's words to heart and saw each man and woman as a vital part of the war effort, their efforts yielded a tremendous return, and took a vital step on the noble path that defined the Greatest Generation.
Visit the exhibit microsite to learn more.