2015 WHITNEY BANK VICTORY BALL: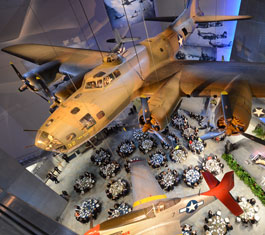 Celebrate! The National WWII Museum's 15th Anniversary
Friday, June 12, 2015
This year, the Museum will look back in gratitude to all of our members, friends, and supporters who have helped us grow—from the Museum's opening in 2000 to the upcoming completion of the Campaigns of Courage: European and Pacific Galleries.
The pinnacle of the evening will be the presentation of the new Crystal Achievement Award. The Crystal Achievement Award will be presented to five dedicated individuals and organizations whose actions over the past 15 years have reflected the values and spirit of those who served our country during the WWII years and who inspire others through their own acts of leadership, initiative, and generosity.
This elegant summer affair will feature exciting new elements this year—including celebrity chef-styled menus by Chef John Folse as well as a lively post-party lounge and a live luxury auction.
The National WWII Museum looks to community leaders to help us preserve and pass on the story of the American experience in the war that changed the world. Your support of this event will advance our mission and help us teach today's generation why the war was fought, how it was won, and what it means today. Education outreach and exposing students to the accomplishments of the WWII generation are our highest priorities. We are excited to announce that funds raised through sponsorships from this event will provide scholarships for incoming high school juniors to participate in the Museum's Student Leadership Academy and Normandy Academy. You can play a part in helping bright young minds explore the leadership lessons and real-life decision-making scenarios of World War II.
Help us educate the next generation by supporting the 2015 Whitney Bank Victory Ball.
Learn more about these important educational initiatives.
Superior Energy Patron Party

Whitney Bank Victory Ball

Otto Candies, LLC Post-Party Lounge,
Entertainment, and Live Luxury Auction

5:30 pm – 6:30 pm

7:00 pm – 8:30 pm

8:30 pm – 10:30 pm

Enjoy The National WWII Museum's 15th Anniversary at the Whitney Bank Victory Ball!


The National WWII Museum is thankful for the generosity of the companies and individuals who support Whitney Bank Victory Ball. View all 2015 Whitney Bank Victory Ball Sponsors.
For more information on the 2015 Whitney Bank Victory Ball, please contact our Special Events department at 504-528-1944 x 334 or x 365 or email rsvp@nationalww2museum.org.