FOCUS ON: SENATOR TED STEVENS: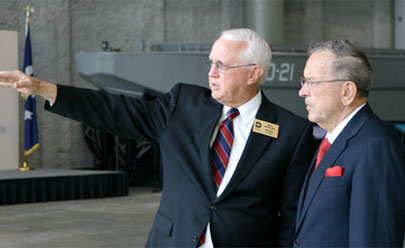 The country lost a great statesman and The National World War II Museum lost a great friend with the tragic death of Senator Ted Stevens.
Senator Stevens was a distinguished veteran of World War II. A pilot in the Army Air Corps, his deployments spanned several continents and included "flying the hump," the name given by Allied pilots to the eastern end of the Himalayan Mountains over which they flew C-47s from India to China to resupply the Chinese war effort of Chiang Kai-shek and the US units based in China. He was awarded two Distinguished Flying Crosses, two Air Medals, and the Yuan Hai Medal of the Republic of China.
His remarkable career in public service began with his election to the Alaska House of Representatives in 1964. He went on to become the longest serving Republican member of the United States Senate, a great champion for Alaska, for the national defense, and for The National World War II Museum.
On June 2, 2000, Ted Stevens toured the fledgling National D-Day Museum, just four days before the Museum's Grand Opening, then talked with Museum Founder Stephen Ambrose and myself. His experience in the Museum had been so powerful, so meaningful, that he urged us to broaden our mission and vision to tell the entire, epic story of World War II – every theater, every campaign, every branch of service. His passion set us on the road to victory with a visionary expansion plan. The Senator pledged his support and soon recruited his friend and colleague Senator Daniel Inouye, another distinguished World War II veteran and recipient of the Congressional Medal of Honor, to our cause. These two remarkable gentlemen charted our course for the future and gave us our marching orders!
Senator Stevens will be deeply missed by all of us and by many of you who knew him personally. It is bittersweet but very fitting that, at this time of grief, we are about to dedicate the site for the next milestone in our expansion – The U.S. Freedom Pavilion. This dramatic new addition to the Museum's campus will forever remind us of the selfless and heroic efforts of Senator Stevens and Senator Inouye – on the battlefields of World War II and, later, in support of The National World War II Museum. We will never forget.
Dr. Gordon "Nick" Mueller
President and CEO

Service Photo of Senator Stevens: