FOCUS ON: MAJOR RICHARD "DICK" WINTERS: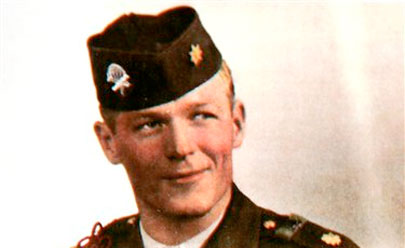 January 21, 1918 – January 2, 2011
Richard "Dick" Winters began his association with the 101st Airborne Division's 506th Parachute Infantry Regiment as a platoon leader in Easy Company. By war's end, he commanded the 506th's Second Battalion, which included his old company. Although the attrition of war played a part in Winters' rapid advance through the ranks, it was his superb leadership and ability to complete tough assignments that endeared him to the men under his command.
The men of Easy Company who survived the war attribute their survival to many things; however, the leadership of Dick Winters is always near the top of the list.
Museum founder and Band of Brothers author Stephen Ambrose interviewed and corresponded with Winters extensively. The book would not only inspire the Emmy award-winning HBO miniseries of the same name, but also a renewed interest in World War II history.
Read a letter from Dick Winters to Stephen Ambrose from August 1996.
See and hear excerpts of interviews with Dick Winters below.
Video oral history excerpt from the Museum's permanent exhibits
---
Audio oral history excerpt from the permanent exhibit The D-Day Beaches: Air and Sea