LOUISIANA MEMORIAL PAVILION FACT SHEET:

All requests, layouts, and media need to be finalized and delivered to A/V department 48 hours before event. Testing of Media received after this 48 hour period is not guaranteed and you run the risk of not having time to make corrections. No further changes can be made once the event has started.
All events in this room will need at least one technician assigned.
View all of our venue layout options in the Louisiana Memorial Pavilion.

Dimensions — 109' x 115'
Square Footage — 12,535

Capacities
Theater Style — 400 guests
Banquet Style — 250 guests
Reception Style — 600 guests

Audio Visual Capabilities
Audio

Audio Console: Allen Heath 8 channel – Analog sound board
Speakers:
2 main — Renkus Heintz Iconyx Ic8r (self powered)
2 secondary/fill (on request)
Microphones:
3 Wireless Handheld — ShureULXP4 (SM58 tx)
Media Players:
Tascam CD/MP3 player
1 video feed from tech booth to projector.
Audio Recording: Yes
Audio Recording: You would need to provide the equipment needed to record your event.
Video: 1024x768 … 4:3 Aspect Ratio
Acceptable computer file formats: JPEG (for logos) MP4, H.264 (for Video).
Resolution for PPT presentation set to 1024x768; aspect ratio – 4:3; Mpeg for standalone video, WMV. For PPt
Projector: Eiki LC-X6. 6.5k lumen. Fixed in place, front projection.
DVD player available
Extron IN1508 switcher fixed in
Lighting

System: Strand CD80 12 channel/2.4kW dimmers operate 12 Colortran Lekos and 4 Pars
Power
QTY of 16, 15a standard (located back stage, stage right)
QTY of 1, 220v twist (located back stage, stage right)
400 amp / 3 phase disconnect power (available through the CAC)
*Designates a rack that is mobile and can be tied in to existing system or used at other locations.

Additional Available Equipment per Event
Lighting
6 S4 Lekos @ 575w for gobo projection (company logo or effects)

Venue Schematics (click on thumbnail to view larger image):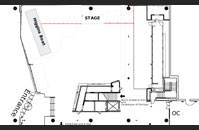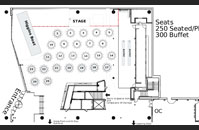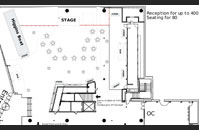 | | | | | |
| --- | --- | --- | --- | --- |
| Blank Layout | | Max Buffet 250 to 300PAX | | Max Reception 400PAX |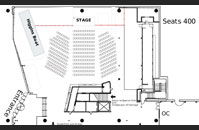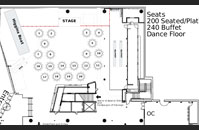 | | | | | |
| --- | --- | --- | --- | --- |
| Max Theater Seating | | Reception with Buffet 200 to 240PAX | | |

Additional Information: