Search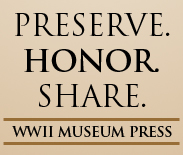 Lagniappe Lecture
Beat the summer heat and enjoy a Lagniappe Lecture at the Museum — free and open to the public.
Friday July 15, 2011
12:00 pm – 1:00 pm
Chan Rogers presents "Liberation of Dachau — My Experiences"
During the spring of 1945, as a platoon sergeant with the 45th Infantry Division, Chan Rogers was assigned to the liberating element of Dachau Concentration Camp. His PowerPoint lecture includes maps, pictures and dialogue and tells his story of the Dachau liberation.
For more information, call 504-528-1944 x 229.
Visit our calendar for information on upcoming programs and events at the Museum or sign up for our email list to receive regular updates.
Special Exhibit: Joe Beyrle: Hero of Two Nations
June 4, 2011 – August 7, 2011. The National WWII Museum hosts traveling exhibit Joe Beyrle: Hero of Two Nations, which tells the incredible story of an American Airborne soldier who fought in both the American and Russian forces during World War II.
The Road to Victory Capital Expansion
The expanded Museum will cover all of the theaters and services that played a role in World War II and create a national center for research on the war.
Lunchbox Lecture
Bring your lunch to the Museum and listen as History Day Coordinator Nathan Huegen presents "1936 Olympics" from 12:00 pm to 1:00 pm on Wednesday, June 20, 2011.
The Classroom Victory Garden Project
Hey, Teachers: Check out the Museum's new online Victory Garden curriculum for elementary students. Lesson plans, school gardening instructions, games, a free poster and more!