PT-305 SCRAPBOOK:

Scrapbooks serve as self-curated exhibits, possessing the unique power to bring personal experiences to life straight from the page. In the spring of 2010, Kathy Kaminski donated to the Museum the scrapbook kept by her father, Edric Costain in 1944 – 45. The story of PT-305's crew is narrated by Motor Machinist's Mate 2nd Class Costain, who began his service onboard PT-305 in July 1944, months after the 305 reached her base at Bastia, Corsica.
Costain's album shows us a world beyond the official histories and combat logs. We see young men posing for each other, full of both silliness and bravado. There are many snapshots of the crew posing at their posts — manning a 40mm gun or one of the four .50 caliber machine guns aboard the vessel. Other photographs show the crew in their leisure time, playing cards or touring Mediterranean locales like Corsica and Elba.
Not only does the scrapbook shed light on the daylight activities of the night-operating crew, but among its pages we find images of the various appearances of PT-305 during the course of the war. A photograph of the PT base at Bastia shows the boats with decks full of cots, sun tarps and a tangle of clotheslines, reminiscent of a crowded tenement neighborhood. Images of PT-305 underway show wide swaths of white water left in her wake. The photographs answer important questions for researchers and the Museum's restoration crew about the many various paint schemes, armament and configurations adapted by PT boats in World War II. PT-305 is the pinup, the centerfold of this important album.
Find out more about the history and restoration of PT-305.

Flip through the PT-305 scrapbook: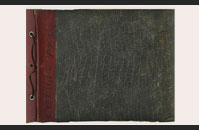 Gift in Memory of Edric G. Costain, The National WWII Museum Inc., 2010.152