MEDIA RESOURCES: 15TH ANNIVERSARY


Click on an image below to download a high resolution file. Don't see the image you are looking for? Contact us with your specific request. Please specify your publication and deadline.
Please credit all images "Courtesy of The National WWII Museum."

15th Anniversary Images: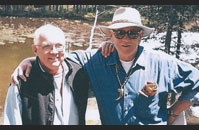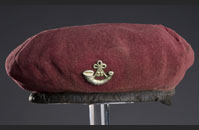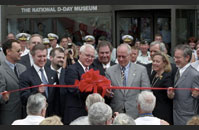 1990 – The Idea
Over glasses of sherry in his backyard, historian Stephen E. Ambrose tells friend and colleague Gordon H. "Nick" Mueller about his dream of opening a museum to house his collection of WWII oral histories and artifacts, which he assembled during research for his books, including D-Day and Band of Brothers.

1995 – First Artifact
A beret worn by British paratrooper Corporal Wally Parr on D-Day and given to Stephen E. Ambrose becomes the first artifact donated to the Museum's collection.

June 6, 2000 – Grand Opening
The National D-Day Museum opens with festivities attended by more than 200,000 people, including Museum founder Stephen E. Ambrose, president and CEO Gordon H. "Nick" Mueller, Tom Brokaw, Tom Hanks, Steven Spielberg, and Secretary of Defense William Cohen.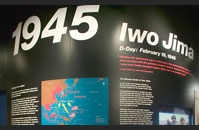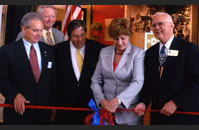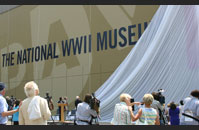 December 7, 2001 – Grand Opening of D-Day Invasions in the Pacific
In another event capturing public attention, the D-Day Invasions in the Pacific exhibit is unveiled in the Louisiana Memorial Pavilion.

April 22, 2006 – Grand Opening of E.J. Ourso Discovery Hall
E.J. Ourso Discovery Hall opens. As the first building of the Museum expansion, the 10,000-square-foot addition provides dedicated space for teachers and students.

June 2, 2006 – Expanded Mission
The Museum officially changes its name to The National WWII Museum, expanding its scope to encompass the entire American experience in World War II.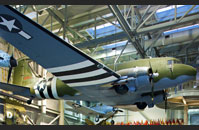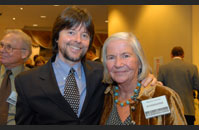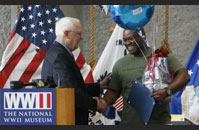 September 2006 – Iconic Macro-Artifact Comes Home
A restored Pathfinder C-47 airplane that flew on D-Day, at Market-Garden, and in the Battle of the Bulge is installed in the Louisiana Memorial Pavilion. The plane was purchased on eBay.

November 16, 2006 – International Conference
The Museum hosts its first International Conference on WWII, with featured speakers including Ken Burns, Madeleine Albright, James Bradley, and Medal of Honor recipients. Noted historians Sir Max Hastings, Donald L. Miller, and Victor Davis Hansen also present.

May 22, 2009 – 2 Millionth Visitor
The Museum welcomes its 2 millionth visitor.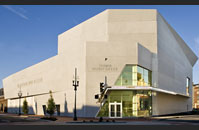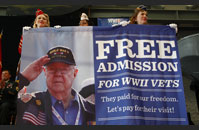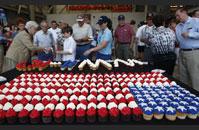 November 6, 2009 – Grand Opening of the Solomon Victory Theater Complex
The Solomon Victory Theater Complex opens to the public, featuring the Stage Door Canteen, The American Sector restaurant, and Beyond All Boundaries, the exclusive 4D experience produced by Tom Hanks.

June 5, 2010 – Free for Veterans
The success of the "$10 for Them" campaign ensures complimentary admission for all WWII veterans.

June 6, 2010 – 10th Anniversary
The Museum celebrates its 10th year and the 66th anniversary of the Normandy D-Day invasion.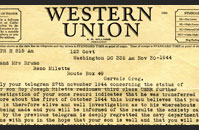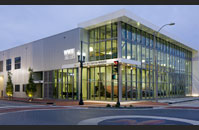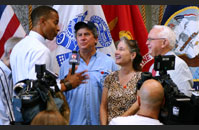 June 9, 2010 – 100,000 Artifacts
The donation of a telegram, which informed the family of Roy Joseph Miletta that he had survived the sinking of the USS Tang, becomes the 100,000th artifact in the Museum's collection.

June 4, 2011 – John E. Kushner Restoration Pavilion
Doors open to the Museum's third major building, home of the PT-305 restoration project. The glass-front building is custom-designed to house this and future macro-artifact restoration efforts within view of the public.

May 2, 2012 – 3 Millionth Visitor
The Museum welcomes its 3 millionth visitor.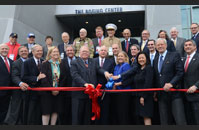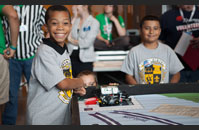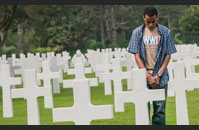 January 13, 2013 – Grand Opening of US Freedom Pavilion: The Boeing Center
The Museum opens its newest pavilion celebrating all branches of service—including a fleet of WWII ground vehicles, six warbirds including a B-17E Flying Fortress, the immersive Final Mission: USS Tang Submarine Experience, Medal of Honor exhibits, and What Would You Do? interactive experience.

May 11, 2013 – Robotics Challenge
The first annual Robotics Challenge pits student-built robots against a WWII-themed obstacle course.

July 8, 2013 – Normandy Academy
For the first time, high school and college students travel to Normandy with the Museum to study D-Day events and locations and pay tribute to fallen soldiers.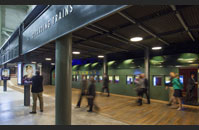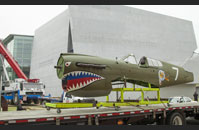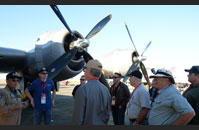 November 11, 2013 – Train Car Opening
A replica train car, sponsored by Bobby and Lori Kent Savoie, takes its place at the start of the Museum experience, complete with atmospheric video "windows" to recall the initial journey of WWII recruits.

January 2014 – P-40 Load-In
The Campaigns of Courage exhibit pavilion gains one of its signature macro-artifacts with the installation of a P-40 Warhawk in Road to Tokyo: Pacific Theater Galleries.

October 2014 – WWII AirPower Expo 2014
In partnership with the Commemorative Air Force, the Museum hosts an air show of restored WWII aircraft, with available ride-along flights and more than 11,000 in attendance.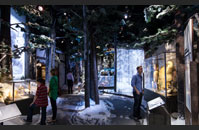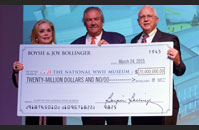 December 12, 2014 – Grand Opening of Campaigns of Courage: European and Pacific Theaters
The Museum's fifth pavilion, Campaigns of Courage: European and Pacific Theaters, opens its first phase with the ribbon-cutting of its first floor, Road to Berlin: European Theater Galleries.

March 24, 2015 – Announcement of Record-Setting Donation
With their donation of $20 million, Joy and Boysie Bollinger fund the construction of the Bollinger Canopy of Peace, give a new name to BB's Stage Door Canteen, bolster the Museum's endowment, and record the largest private donation yet to the Museum.

Videos for Download:
NOTE: Videos may take several minutes to download depending on your browser and device.
Please credit all video "Courtesy of The National WWII Museum."


June 6, 2000 Grand Opening B-Roll

Press Release and Timeline: