MAKE YOUR OWN SILLY PUTTY: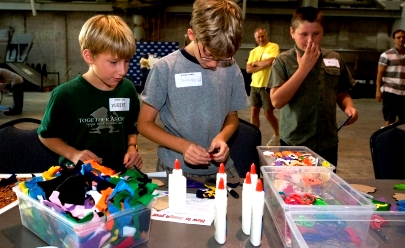 Make "synthetic rubber" silly putty
The shortage of natural rubber during WWII led to experiments with synthetic, or artificial, rubber. Try this recipe for your own gooey version of synthetic rubber!
What You'll Need:
Liquid starch
White glue
Food coloring
Plastic cup
Popsicle sticks
Directions:
Pour two tablespoons of white glue into your cup.
Drop one or two drops of food coloring (in whatever color you like) on top of the glue. (Food coloring can stain clothing, so be careful!)
Slowly pour one tablespoon of liquid starch into the glue cup.
With your popsicle stick, carefully mix the putty together; don't let it spill out of the cup. As the glue and starch mix together, you can stir more vigorously.
The putty will collect on your stirrer. Remove the stirrer from the cup and scrape the putty into your hand.
Work the putty together between your hands. It will feel very sticky and gooey. Work the putty for at least two minutes. If the putty continues to be very sticky, add a dollop more of starch.