WEEKEND WARGAMES: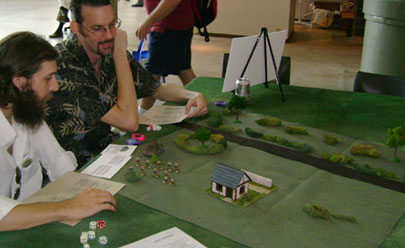 Our Weekend Wargames simulate World War II battles or campaigns, from all theaters — on land, sea and air. Wargames are often scheduled to coincide with important World War II anniversaries, like the Battle of the Bulge, Operation Market Garden or the Battle of Midway. All of our Weekend Wargames are led by volunteer hobbyists in our region, who donate their time, game materials and expertise to run these games for Museum visitors.

Upcoming Wargames
Saturday, May 4, 2013
10:00 am – 2:00 pm
Weekend Wargame: Warfare Thru the Ages – Nancy, France
The National WWII Museum, 945 Magazine Street, New Orleans, LA
Our "Warfare Thru the Ages" series highlights places in the world that have seen repeated conflicts, including action in WWII. The public can learn comparative military history by watching, or by joining in to re-fight the battles using accurate miniature figures. This event is best for ages 12+ and is free with Museum admission.
For more information call 504-527-6012 x 333.

How to Participate
Weekend Wargames participation is free to Museum visitors.
Weekend Wargames are held on an irregular basis. Please bookmark the Museum's calendar of events for the next event. To learn more or receive notices about historical wargaming at The National WWII Museum, contact walt.burgoyne@nationalww2museum.org or call (504) 528-1944 x 333. Or sign up for the Educational WWII Wargaming eNews.