HOTEL AND PARKING INFORMATION: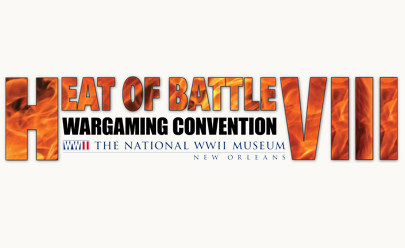 2014 Hotel Information
Our partner hotel for 2014 is the Marriott Springhill Suites. As always, Friday/Saturday night gaming (not limited to WWII) will run starting at 8pm in the Springhill's meeting rooms.
How to Book:
To book your room with the Heat of Battle discount, call Bianca Jackson at the Marriott Springhill Suites, 504-522-3100 x 601.

Parking
There is free overnight parking in lots next to the Museum. Guests are responsible for vehicles/contents and for the daytime parking rate of $6.00.

Contact Us
To learn more or receive notices about historical wargaming at The National WWII Museum, contact walt.burgoyne@nationalww2museum.org or call 504-528-1944 x 333.