BUY WARGAMES: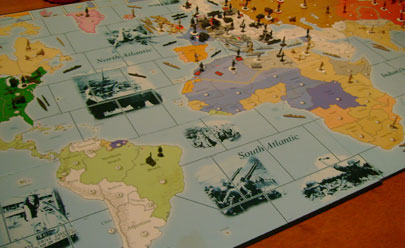 Wargames Available from the Museum Store
The National WWII Museum Store carries three lines of historical wargames — Axis and Allies, Flames of War and Memoir '44 — targeted for different ages and interests.
Each has a different level of historical information and accuracy. In order of age-appropriateness and complexity they are:
Axis and Allies miniatures. A relatively simple rules set allows players to collect pre-painted models from World War II, and use them to create their own hypothetical battles, or historical scenarios. Players use individual ships and land forces in the game.
Memoir '44. In this combination board and miniatures game, each battle represented is an actual World War II event. Of increasing complexity, players are now in charge of massed forces and are provided a set of victory conditions that model the historical challenges in the actual World War II battle.
Flames of War. This set of miniature wargames rules and accurately modeled World War II land weapons, allows players to either recreate historic battles or play in tournament settings, where players take customized armies to hypothetical battles.
Axis and Allies board game. This is a World War II strategic level campaign game, where players take the part of combatant nations, and through resource allocation, production, movement and combat, attempt to achieve victory conditions that model each nation's goals during World War II.

To learn more or receive notices about historical wargaming at The National World War II Museum, contact walt.burgoyne@nationalww2museum.org or call 504-528-1944 x 333. Or sign up for Educational WWII Wargaming eNews.