ABOUT WARGAMING: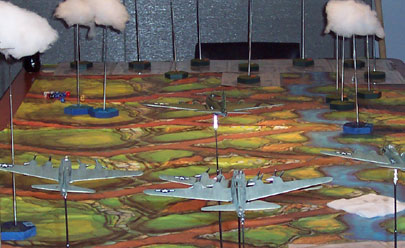 Historical wargames are best enjoyed by ages 12 – 92. Players work with the scales of relative time and distance, and the units represented, to win. Wargames foster skill in Mathematics, Measurement and Cartography, along with Attention to Detail, Risk Assessment and Strategic Thinking, and Maturity.
Published games provide all needed information. The rules establish what the game pieces represent, what you can do with them, and how you can win. For wargamers, the rules provide a fun-to-learn look at armies and battles.

Combat resolution is solved with mathematics and dice, representing the percentage chances of weapon effectiveness. Combat solutions are arrived at by asking these questions:
What are the weapons being used?
What percentage chance do they have to affect the target? At what range?
What are the different possible effects, and what chance is there for each, if the target is impacted?
This information is gleaned from historical records. The more modern the battle, the better the information available, and the more accurate the game.

Because of the reality of wargaming, history comes alive for participants. The epic scene of determination to win during times of war comes to life in miniature on scaled-down battlefields. The interactive nature of wargaming provides a continuously changing environment. As a result, everyone involved in wargaming is learning and continually evolving the way in which he/she thinks.
Thanks to Glenn Husted of the Mississippi Armed Forces Museum, who developed most of the above information.
To learn more or receive notices about historical wargaming at The National WWII Museum, contact walt.burgoyne@nationalww2museum.org or call (504) 528-1944 x 333. Or sign up for Educational WWII Wargaming eNews.

Want to get started wargaming yourself? Learn more about the different wargames we have here at the Museum under Buy Wargames.