BAND AND CHORAL CONCERTS: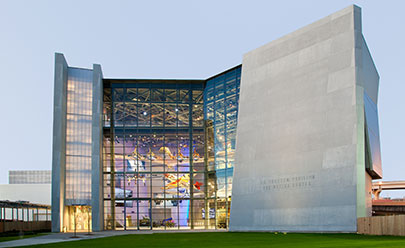 Admission must be purchased for a school band or choral group to perform. This may be arranged through Group Sales at 504-528-1944 x222 or toll free 1-877-813-3329 x 222.
All performances are open to the public. Performances will be held outside on the pavers of our US Freedom Pavilion, weather permitting and subject to date and time availability. The Museum does not have space for instrument storage or for groups to change clothes before or after performing.
With advanced request, the Museum will provide:
Performance chairs

One extension cord for electric keyboard

Frequently Asked Questions
How long may we perform?
Performance time is limited to 30 minutes.
How many students may perform?
Museum reserves the right to limit number of performers due to space limitations and museum events. Flag bearers and/or baton majorettes may not perform.
What kind of music can we play?
1940s, swing, and/or patriotic music is preferred.
What kind of audience should we expect?
Regular visitors often stop to hear the bands or choral groups; however, often the audience is largely made up of friends, families, and supporters of the band or choral group.

Ready to schedule your band or choral group to perform at The National WWII Museum? Contact Group Sales at (504) 528-1944, x 222.