TAKE A CLOSER LOOK AT MAGAZINE ADS: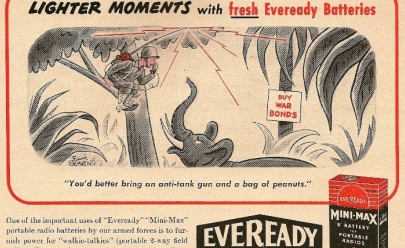 Magazine Advertisements Supporting the War
On December 29, 1940—a year before the United States entered WWII, but more than a year since it had started—President Franklin Roosevelt spoke to the country over the radio and stated that the United States should be the "Arsenal of Democracy." In other words, FDR promised to help those countries fighting against Germany and Japan with weapons and supplies.
By the time we entered the war after December 7, 1941, we were supplying millions of tons of arms, food, and other materials to Great Britain, China, the Soviet Union, and other countries. Our own military would needs millions of tons more. The big factories and shipyards in Detroit, Seattle, Los Angeles, and other cities produced the tanks, airplanes, and ships we needed. But thousands of smaller companies and factories quickly converted their operations from manufacturing civilian goods to producing parts and materials for the war effort. According to a 1942 Office of War Information newsreel, a B-17 bomber included more than 100,000 parts! Many of those parts were made by small companies whose names we may never know.
Companies that supported the war effort were proud of their accomplishments and wanted their customers to know how they were helping to win the war. Military and civilian drawings or photographs are often paired. Many companies stopped making products to sell to civilians as their war work increased, but they didn't want their customers to forget about them. When victory finally came, these companies promised, all your favorite products would again be available.
Let's take a look at just one magazine—Outdoor Life from April 1943—and view a sample of its war-related advertisements.

Image Gallery: