2013 HIGH SCHOOL ESSAY CONTEST: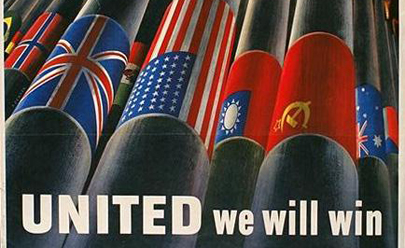 Updates
The 2013 National WWII Museum Student Essay Contest is now closed. Thank you for your submissions. Winners will be announced and posted here on May 1, 2013.

The National WWII Museum asks "How can people who disagree still work together for victory?"
In order to fight—and ultimately win—WWII, the United States allied itself with countries it had political, economic and strategic disagreements with—both small and large. On the Home Front disagreements existed between politicians of different parties, between workers and factory owners, and between racial groups. Most times (but not always) we were able to put aside these differences for the greater good.
For your essay, think about the United States today—both the country as a whole and your city, school and even your family. You will see differences of opinion on a variety of subjects—both small and large. Examine these differences along with our common goals to answer the question: How can people who disagree still work together to solve a problem? Use WWII as a starting point and base your essay in part on America's involvement in WWII. But don't stop in the past. Use specific examples from your own experiences that support your ideas. This is NOT a research paper. Your essay will be judged foremost for its originality, clarity of expression and adherence to contest theme, as well as its historical accuracy, grammar, spelling and punctuation. The National WWII Museum staff will read and evaluate entries.
Print out a flyer to hang in your school!

Awards
First place: $1,000
Second place: $750
Third place: $500
Winning essays will be posted on The National WWII Museum's website. The top 50 essayists will receive honorable mention on our web site.

Rules and Formatting Guidelines
Contest is open to all high school students in the United States, United States Territories, and military bases.
Your essay must be 1,000 words or less. Only one essay per student may be submitted.
All essays should:

be double spaced
have 1 inch margins
include page numbers
include an essay title
be typed in 12 point font
be in Microsoft Word or a compatible format.

Submissions must be submitted via the website by March 29, 2013, 5:00pm CST.
Museum will accept the first 500 properly formatted entries only. The website will indicate when 500 essays have been submitted.