Search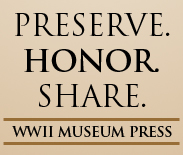 Honoring the Greatest Generation
The National World War II Museum is on an urgent mission to honor the men and women of the Greatest Generation, their sacrifice, their triumphs and their stories. Every 90 seconds, a veteran of World War II leaves us, erasing forever their memories of the War that Changed the World.
We are working on a daily basis to preserve their stories through exhibits, the collection of artifacts and a nationwide effort to collect oral histories. Join us on this important journey by becoming a Museum member, contributing artifacts or sharing your own personal experience or the story of a loved one with a Personal Page.
The men and women who served in World War II fought and died for our freedom. What will you be willing to do for them?
Click here for more information on the passing of the Greatest Generation with maps and statistics on remaining veterans.
If you are a veteran and would like to join us to celebrate the 65th anniversary of D-Day, please click here.

Focus On: Merrill's Marauders
Although Merrill's Marauders were only operational for six months, the legacy of their gallantry is honored by the U.S. Army through the modern day.
The Road to Victory Capital Expansion
The expanded museum will cover all of the theaters and services that played a role in World War II and create a national center for research on the war.
NEW: The Science and Technology of WWII
This exciting curriculum includes an interactive website complete with lesson plans, activities, and an on-line exhibit, a Virtual Field Trip videoconference, and a FREE classroom poster.