ROAD TO VICTORY BRICK CAMPAIGN: EXTRAS

For a limited time only, we are offering you exclusive opportunities to bring that tribute into your home or office to share your personal tribute with family and friends.

Deluxe Tribute Package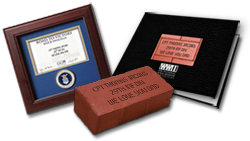 BEST DEAL

Get the framed certificate, duplicate brick and commemorative book so that the story of your loved one's contribution can be passed down for generations to come.
Price: $189.00


Duplicate Brick
We can engrave an exact replica of your brick that you can display in your home, office, or garden. It can also be a remarkable gift for family members or to your honoree.
Price: $100.00


Commemorative Book
This elegant, 44-page hardcover book immortalizes the story of America's role in WWII through powerful and awe-inspiring images from the Museum's archive. Personalize the cover with a digitally reproduced image of your commemorative brick.
Price: $50.00


Framed Certificate
Make your Commemorative Brick Certificate even more special by displaying it in a beautiful new frame with your chosen branch of service.
Price: $50.00