ROAD TO VICTORY BRICK CAMPAIGN:

With a brick at The National WWII Museum, you can create a lasting tribute to loved ones who served their country. These fathers and grandfathers, sons and daughters, friends and neighbors overcame a once-in-a-generation challenge and they deserve a memorial that will last for generations to come.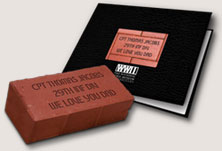 Honor your hero with up to three lines of text for only $200 per brick. List your name, the name of a WWII veteran or civilian, a military unit, squadron, ship or branch of the armed forces — the choice is yours.
And for the first time ever, you can capture the spirit of your tribute in a special edition commemorative book from the WWII Museum Press — a treasured keepsake you can share with the entire family.
The elegant, 44-page hardcover commemorative book immortalizes the story of America's role in WWII through powerful and awe-inspiring images from the Museum's archive. For a limited time, personalize the cover with a digitally reproduced image of your commemorative brick.
By itself, the commemorative book makes a terrific gift, but personalized with your brick, it becomes a lovely tribute to your loved one and a cherished keepsake you'll pass down for generations. Order both today for just $250.